(Bitcoinist) 'PAY ME IN BITCOIN' – MORE NFL PLAYERS JOIN THE REVOLUTION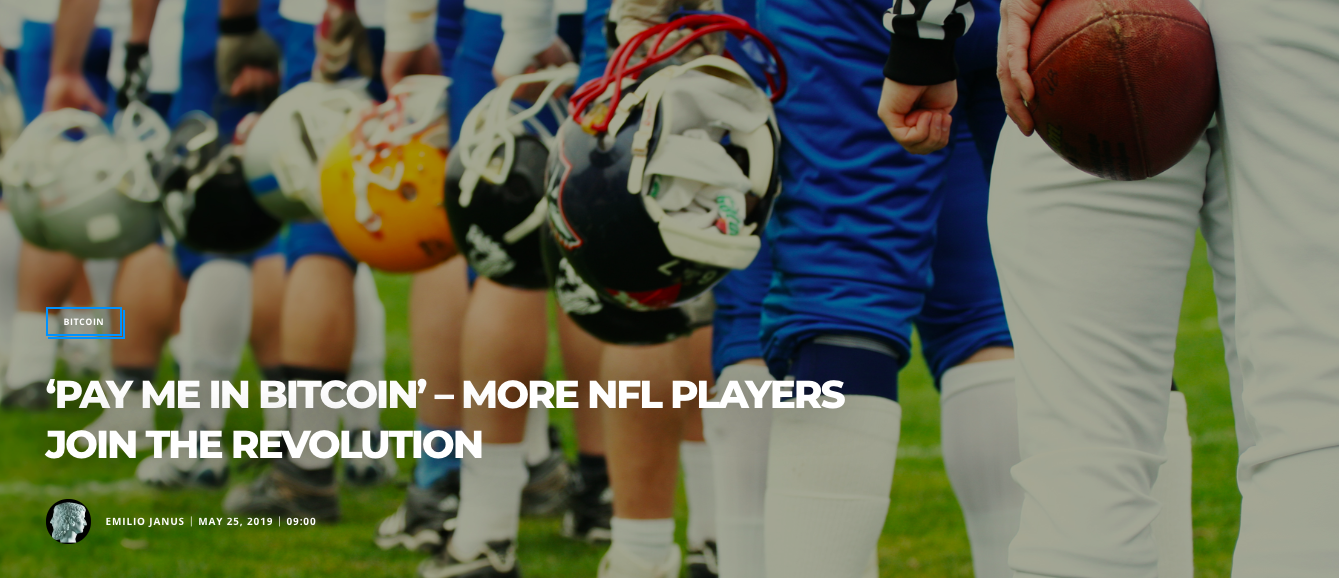 EMILIO JANUS | MAY 25, 2019 |
Russell Okung's Bitcoin epiphany and Matt Barkley's mining revelation have started a groundswell of interest across the NFL. More and more players want teams to 'Pay me in Bitcoin'.
NFL PLAYERS ❤︎ BITCOIN
The love affair between American Football stars and Bitcoin came to the fore just two weeks ago and has blossomed since then. It all started innocuously enough, with a Random tweet from LA Chargers Offensive Tackle, Russell Okung: "Pay me in Bitcoin".

But Okung wasn't done. 16 minutes later after some more pondering, he was back. "How dope would it be to see an ESPN headline with an athlete being paid in $BTC?"
Naturally, Crypto-Twitter jumped all over this, giving Okung "so much love" and the tools and information to continue on his journey to enlightenment.
For his part, Okung has been happy to give the salivating CT monster what it wants; dropping pro-Bitcoin tweets on the reg. He has likened his crypto-awakening to 'taking the red pill', and questioned: "How could something so wrong make me feel so right?"
MEANWHILE POMP OUTED ANOTHER NFL BITCOINER
The day after Okung's original tweet, Anthony Pompliano posted that NFL Quarterback, Matt Barkley, had tried to get two previous teams to pay him in Bitcoin, with no success.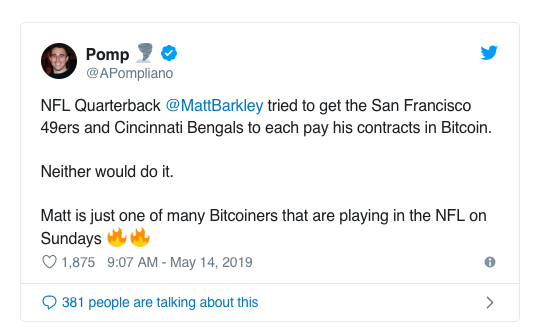 Again, Crypto-Twitter came forth with praise, advice and the offer of free stuff. Trezor offered to hook him and his team-mates up with free hardware wallets, to which Barkley replied he was "all about @Ledger".
But perhaps most surprising was his reply to the suggestion that he get some 'skin in the game' and start mining bitcoin. "Already am mining," he revealed. How deep does this rabbit-hole go?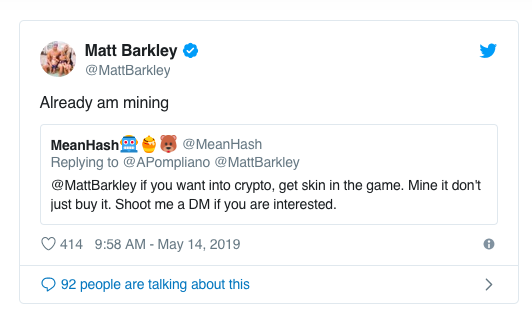 IF ONLY THERE WAS A WAY?…
Just yesterday, Okung tweeted that "A couple of players are hitting me up about Bitcoin. Yes, I'm serious!"
But this is a little more than just team-mates interested in their buddy'd new hobby. You see, Okung is a Vice President of the NFL Players Association, a body which "assures proper recognition and representation of players' interests."
If anybody can push this call for salaries paid in BTC, it should be him. And with services like Bitwage available, this is becoming easier than ever.
Oh, and of course, this proves gold-bug Peter Schiff even wronger.
Full artcile and images taken from Bitcoinist.