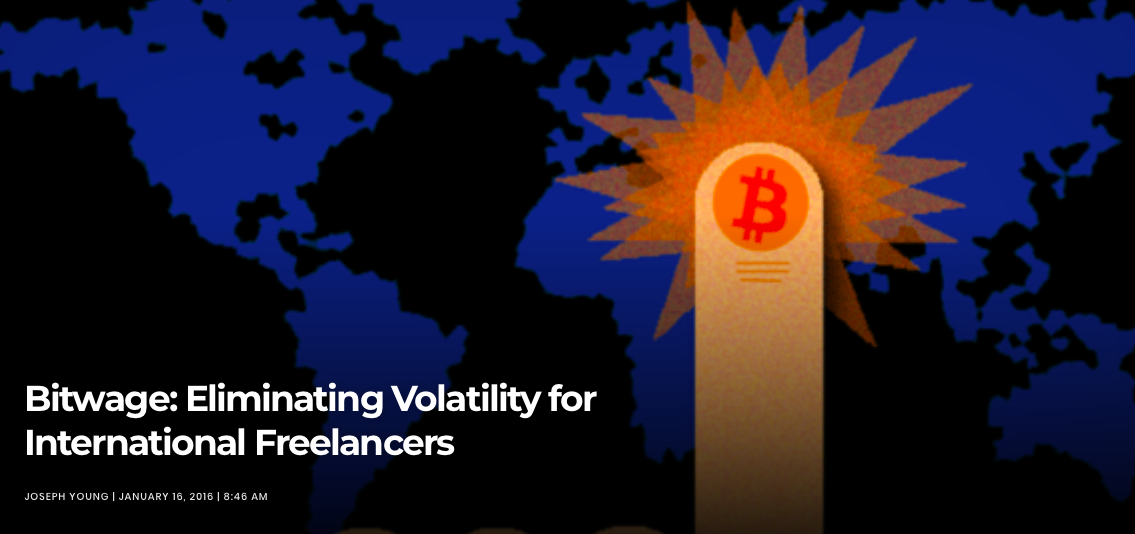 (NewsBTC) Bitwage: Eliminating Volatility for International Freelancers
Table of Contents
JOSEPH YOUNG | JANUARY 16, 2016 | 8:46 AM
Freelancers, contractors, and employees in developing regions with extreme financial, currency, and capital controls suffer from the lack of trustworthy financial infrastructure.
These individuals are heavily dependent on existing financial platforms and systems such as PayPal and banking services which require a substantially high percentage of the payments as conversion and transaction fees, and demand at least three days to nearly three weeks to process. The inefficiency of today's financial systems have led to a growing demand for alternative independent currencies like Bitcoin.
Because the Bitcoin network is decentralized, it has the ability to process instant transactions, with surprisingly low fees for the miners who confirm and verify the transactions. Through Bitcoin, individuals can receive their funds or salaries a lot faster, in a more robust and efficient process.
Bitwage, leading international wages and payroll platform has been using Bitcoin to enable freelancers, contractors, employees to receive their funds in Bitcoin with ease, through their various local currency outputs or cloud savings which comes with a Visa debit card.
The cloud saving solutions provided by Bitwage allows anyone in the world to receive wages in Bitcoin, without complicating the process for the sender or the employer. Additionally, the Bitwage platform offers support for 29 different currencies or precious metals, which can be withdrawn into local bank accounts in the US and Europe.
"We can provide freelancers, contractors and employees in the region with domestic US bank accounts to get paid into. Their clients and employers do not have to sign up and they get to save money doing a domestic bank transfer, while the freelancers, contractors and employees easily receive their funds in bitcoin, through our various local currency outputs, or our cloud savings that comes with a Visa debit card," Bitwage founder and president Jonathan Chester told NewsBTC in an exclusive interview.
Eliminating Volatility
By using the Bitwage cloud savings solutions, users can avoid volatility of reserve currencies and traditional medium of payments. For example, in countries like Argentina or Venezuela where the federal governments have implemented strict currency controls, the annual inflation rate records a staggering 27%. Furthermore, users can transfer their wages throughout different currencies to gain higher international conversion rates and values.
The Bitwage team has also begun to notice a growing user base in the Southeast Asian region, especially in the Philippines, due to the relatively high transaction fees implemented by its local banks and remittance outlets such as Lhuiller and Palawan Money.
"We already have customers in the Philippines that are using our system for this very reason, moving money in as fast as 2 hours, saving over 10% in comparison to sending via wire transfer," said Chester.
He further emphasizes that the growth and the rising trend of Bitcoin is similar to the demand of US dollars. Bitcoin is one of the only currencies in existence that is not dependent on a commodity or a central authority. Thus, the value of the digital currency purely depends on its demand. The independence of Bitcoin allows itself to maintain a high international conversion rate, which is one of the main factors behind its popularity in the Southeast Asian region.
"It's important to understand that in the financial world, bitcoin can add value in two completely different ways, as a currency and as a payment rail. As a payment rail, all of the value derives from removing financial intermediaries. With less middlemen, transactions become a lot faster, cheaper and more reliable. As a currency, the value derives from having an alternative store of value that is not necessarily tied to the political agenda of your state. This is why the US dollar has become so popular in various countries in South East Asia, such as Cambodia where you can withdraw USD out of ATMs. Since the store of value of the US Dollar is not connected to the local countries political agenda, but instead, is being created in a nation with a relatively stable political and financial system," explained Chester.
By utilizing Bitcoin and innovative platforms like Bitwage, anyone around the world can receive their payments in Bitcoin, and disperse them throughout different currencies with higher international rates and values, eliminating volatility and escaping from the strict financial regulations implemented by governments worldwide.
Full article available here.
---