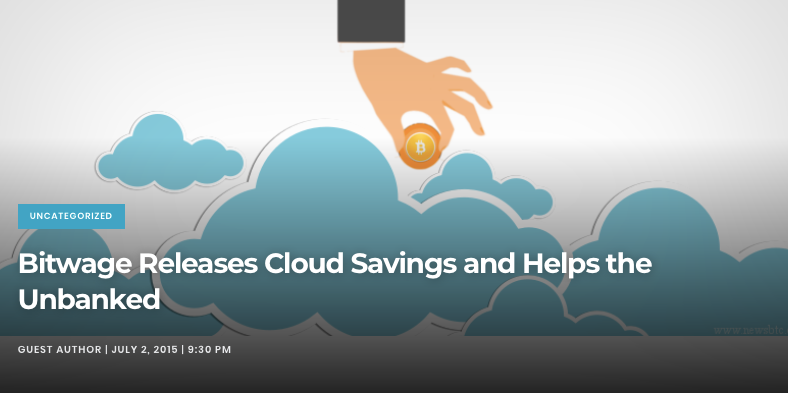 (NewsBTC) Bitwage Releases Cloud Savings and Helps the Unbanked
Table of Contents
GUEST AUTHOR | JULY 2, 2015 | 9:30 PM
Bitwage is making international payroll better and easier. Companies using Bitwage reduce payroll costs, increase transfer speeds, and have access to unique payroll tools that cannot be offered through traditional means.
The average cost of paying employees overseas is 8% from flat fees and exchange rates, 3-5 business days and the stress of having no insight into payment flow process. Bitwage allows Employees to both receive a wage and pay for goods and services in Bitcoin. However, being paid in Bitcoin has been difficult for customers concerned about the volatility of the Bitcoin exchange rate.
This is why the company designed a new product – Bitwage Cloud Savings. By partnering with Bitreserve, Bitwage is now able to offer customers the option to choose any portion of their salary to be split and held in 9 currencies and 4 precious metal, including US dollars, Bitcoins, Euros, Pounds, Mexican Pesos, Indian Rupees, Gold, and Silver. With Bitwage Cloud Savings, receiving wages around the world has never been easier.
From paycheck to paycheck, Bitwage users will be able to decide exactly how their salary is paid. Whether the customer is a Greek contractor wishing to hold US Dollars, a Spanish software developer looking to hold Euros or a US employee who wants to be paid in a split between Bitcoin, Gold and Dollars, Bitwage gives the choice back to them.
Bitwage users already enjoy an element of separation from their bank and the traditional financial system. However, Bitwage Cloud Savings now allows them to bypass the whole process, unlike other services that require customers to sign up with a bank account to receive fiat and digital currencies. This means that for the unbanked and underbanked, now exists a solution that allows them to participate in the global digital marketplace and avoid the slow, costly process of check cashing services.
Bitwage envisions a world of low-cost, fast, borderless payroll where, with Bitwage Cloud Savings, employees and contractors all around the world can avoid the limitations enforced by the traditional banking infrastructure by harnessing the efficiency and freedom of Bitcoin held in the currency of their choosing.
With the company allowing such services, users and newcomers getting into cryptocurrency no longer need to have a bank account in order to enter the digital currency space.
Full article available here.
---