Crypto Payroll Germany: Redefining Freelancer Payments with Bitwage's Innovative Solution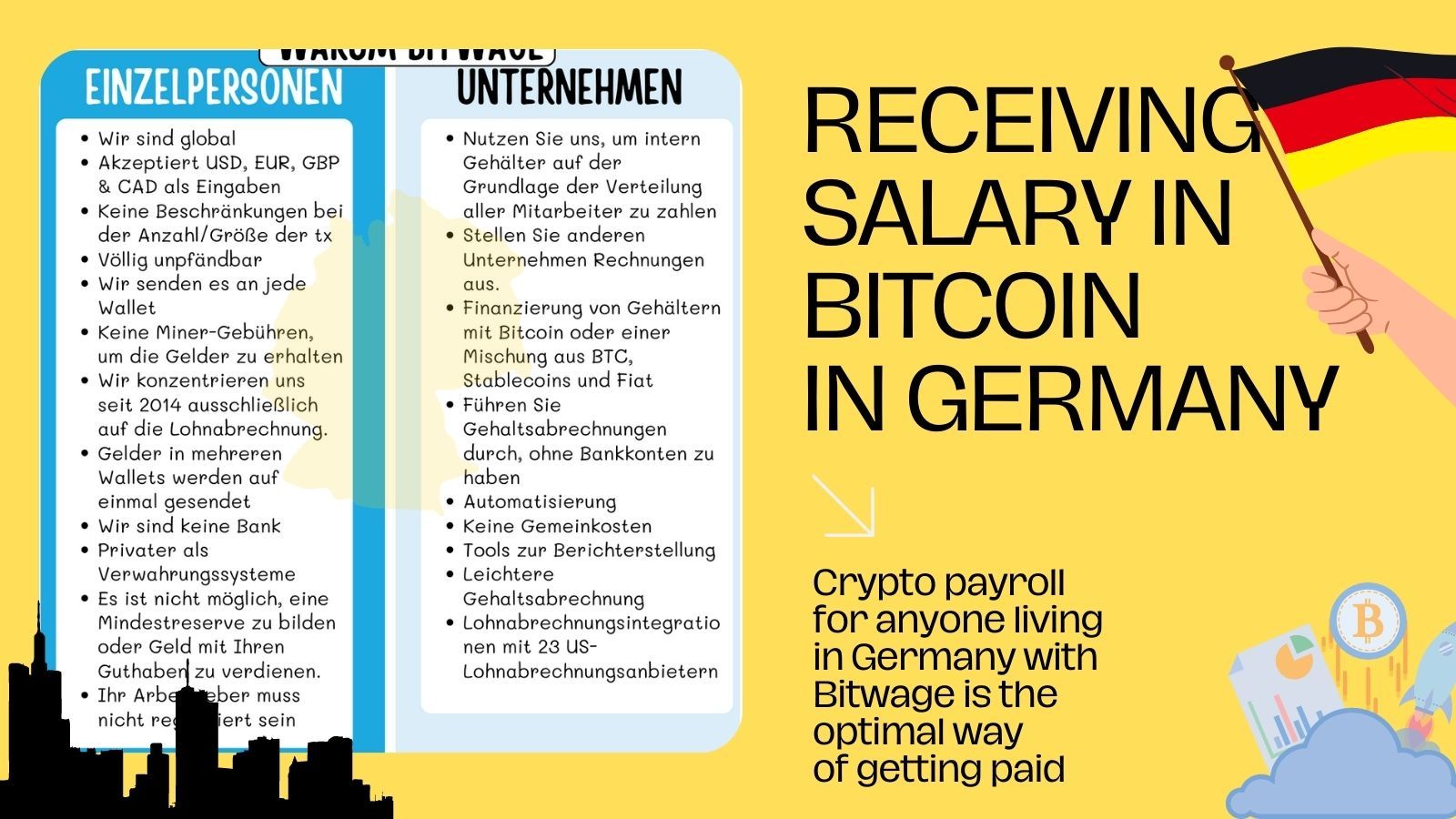 Is Germany Bitcoin Payroll heaven?!!
Germany has emerged as a leading destination for cryptocurrency enthusiasts, defying stereotypes with its favorable laws and regulations. While other countries may exhibit higher rates of cryptocurrency investment, Germany has positioned itself as a crypto haven with its progressive stance. In recent years, the country has implemented crypto-friendly tax laws, including exemptions for gains below €600 and complete tax exemption for cryptocurrencies held for over a year. This political and regulatory environment has attracted international investors who appreciate the stability and predictability that Germany offers. Moreover, the German government recognizes the potential economic benefits of attracting crypto investments, with the money saved in taxes ultimately contributing to the local economy. Although cryptocurrency ownership in Germany remains a niche market, it is steadily gaining momentum, especially among younger generations.
5.8% of German adults currently hold cryptocurrency, or approximately 4.9m people in 2022. - Source
Germany's proactive approach to regulating and embracing cryptocurrencies positions it as a safe and attractive option for investors worldwide. With clear regulations and a supportive environment, Germany is poised to lead the way in the crypto landscape, providing stability and opportunities for those who recognize the potential of this transformative technology.

Introduction:
In the dynamic landscape of payroll services, the emergence of digital currencies has catalyzed a paradigm shift in financial empowerment. As a trailblazer in the realm of crypto payroll, Bitwage has been spearheading the revolution, offering innovative solutions to individuals and companies since 2014. Our unwavering dedication to excellence, trust, and security has firmly established us as the leading provider and a logical choice when it comes to crypto payroll services in Germany, with a particular focus on freelancers. In this exclusive exploration of crypto payroll in Germany, we will unveil how Bitwage is redefining salary payments, securing our position as the ultimate choice for individuals and companies in search of an optimal crypto payroll solution within the German market.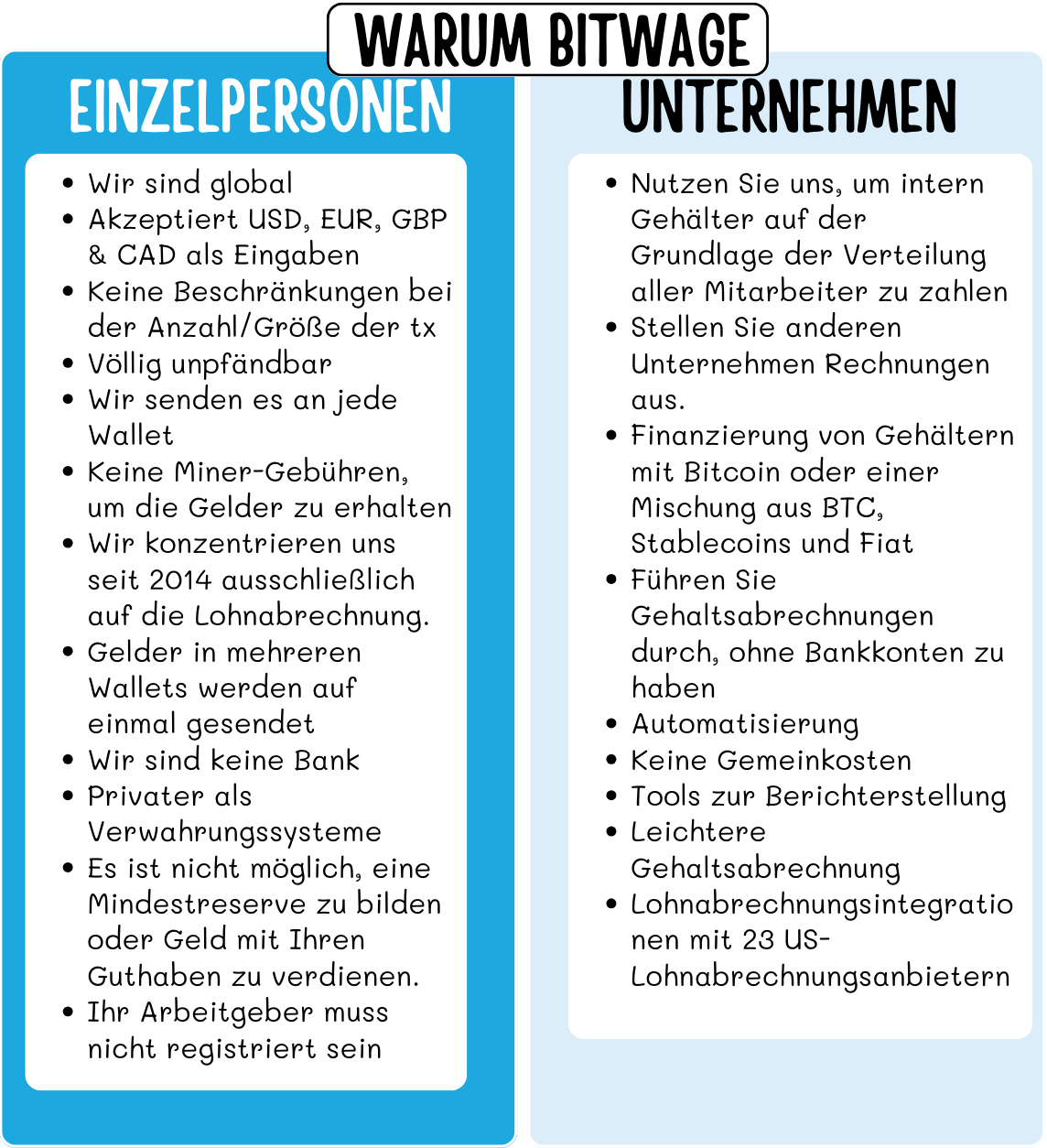 Unlocking the Power of Bitcoin in Germany:

Embrace the boundless possibilities of digital currencies like Bitcoin, with our service at Bitwage. The platform of ours that knows no geographical limits. In Germany, we offer individuals and companies the unparalleled opportunity to unlock the true potential of salary payments through the power of digital currencies. Our revolutionary platform seamlessly integrates cryptocurrencies like Bitcoin, empowering companies to seamlessly embrace the future of finance while providing employees with the freedom to receive their salaries in their preferred digital assets. From the vibrant streets of Berlin to the bustling financial hubs of Munich and Frankfurt, Bitwage transcends borders to bring the benefits of Bitcoin payroll to every corner of Germany. Our inclusive approach caters to companies of all sizes and industries, establishing us as the premier choice for crypto payroll in Germany. As the world embraces the transformative power of Bitcoin, join us on this extraordinary journey where the possibilities are as limitless as the German spirit. In the words of Friedrich von Hayek, "The curious task of economics is to demonstrate to men how little they really know about what they imagine they can design." With Bitwage, we not only revolutionize payroll services but also challenge conventional notions of money and financial systems. By embracing Bitcoin payroll in Germany, you embrace a future where financial transactions are borderless, secure, and transparent. Our platform accepts various currencies as inputs (USD, EUR, GBP & CAD), ensuring a seamless payment experience for both employers and employees. Whether you're a startup in Berlin, a multinational corporation in Munich, or a creative freelancer in Frankfurt, Bitwage empowers you to embrace the power of Bitcoin and shape the future of salary payments. As the German economy thrives on innovation and efficiency, it's only fitting to choose Bitwage as your trusted partner in the world of crypto payroll in Germany. Join us as we redefine the way money moves and discover the true potential of digital currencies in Germany.
As Albert Einstein once said, "We cannot solve our problems with the same thinking we used when we created them" we accept the same mindset.
It's time to embrace change, unlock new possibilities, and embark on a journey that will reshape the way you think about payroll.
We are here to make your payroll experience in Germany extraordinary, effortless, and truly transformative.
Unleashing the Potential:

In a world where traditional payment methods often come with limitations and intermediaries, our crypto and Bitcoin payroll solution stands out for its unmatched flexibility and freedom. Imagine a payroll system without restrictions on the number or size of transactions, enabling seamless and efficient processing of salary payments. With Bitwage, we prioritize the security and privacy of your funds by adopting a fully non-custodial approach. Your hard-earned salary is sent directly to your personal wallet address, with no intermediaries holding your assets. We do not hold it. This level of control and autonomy is especially beneficial for freelancers working for companies outside of Germany, allowing you to receive your funds with ease and confidence. What's more, Bitwage eliminates miner fees, ensuring that you receive your funds in full, without any deductions or unexpected surprises along the way.  
Embrace the boldness of crypto payroll in Germany with Bitwage, and experience the freedom and financial empowerment it brings to your professional life.
"Boldness has genius, power, and magic in it." -Wolfgang von Goethe.
Putting Individuals First:

At Bitwage, our commitment to empowering individuals is at the core of everything we do. Our customer-centric approach sets us apart, as we are solely dedicated to providing top-notch crypto payroll services tailored to meet your unique needs. With us, your privacy is paramount, as we offer a more private alternative to custodial systems. Say goodbye to the risks associated with fractional reserve banking, as we do not hold your funds and by doing that you are protected  from any potential exploitation. Fully non-custodial approach.
What truly sets us apart is our streamlined onboarding process. You don't need your employer to be registered with Bitwage for you to enjoy the benefits of our platform. We've simplified the entire process, making it seamless for both parties involved. Experience the convenience and peace of mind that comes with our hassle-free payroll solution.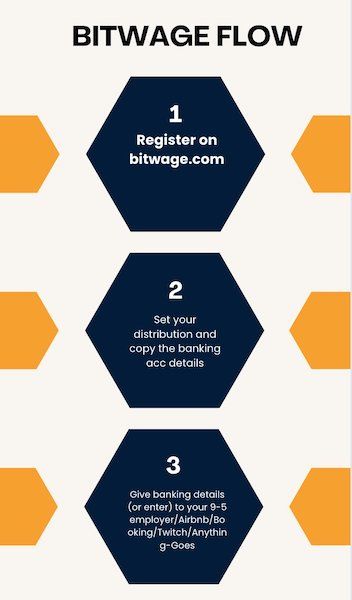 Our clients rave about the freedom and control they have over their financial transactions. They appreciate the transparency and security provided by our non-custodial platform. With Bitwage, you can take charge of your salary payments, eliminating any worries about third-party intermediaries.
It's time to unlock a new level of financial empowerment and enjoy the flexibility and convenience that Bitwage brings to your professional life.
Get more for your money!
Join us today and experience the difference firsthand.
🔥
"The next step of Bitcoin adoption is to pay your employees in Bitcoin. In a non-perfect world with heavy bureaucracy Bitwage makes it easy for us to pay our employees directly via Bitcoin" - Hotel Princess Plochingen / No 1 Bitcoin Hotel
Empowering Companies:
Bitwage's crypto payroll solution, or Bitcoin payroll, extends its benefits to companies not only in Germany but worldwide, enabling them to revolutionize their payroll processes.
Let's delve into the possibilities that companies have by utilizing our crypto payment solution:
Pay Salaries Internally: Bitwage allows companies to pay salaries internally based on each employee's distribution preferences. This ensures a seamless and efficient salary payment process. Companies just do regular payments, regardless of the distribution on receiving end of their team and regardless of the number of people that are being paid - one bank deposit/wire is all it takes.
Your team gets paid across the world. And it is so easy. Unlike for example in Japan (you want to read this), where we removed the endless hula hoop and helped BtcPayServer run their payroll.
Invoice Other Companies: With Bitwage, companies in Germany for example can effortlessly invoice other businesses using cryptocurrencies.
It does not matter where the invoiced company is in the world.
This opens up new avenues for cross-border transactions and payment flexibility. They pay regular payments like before (a company that received the invoice), and your company can be receiving a mix of Bitcoin and EUR, per your distribution.
Fund Salaries with a Mix of Assets: Bitwage offers the flexibility to fund salaries (fund payroll) with a combination of Bitcoin, stablecoins, and fiat currencies. This empowers companies to cater to diverse employee preferences and embrace the benefits of digital assets.
Bank Account-Free Payroll: Bitwage enables companies to run payroll without the need for traditional bank accounts. This streamlines the payroll process and eliminates the associated overhead costs. So yes, you can pay your team with us even if you do not own a regular bank account, if you are funding payroll with Bitcoin for example or stablecoins.
Automation and Reporting Tools: Bitwage provides powerful automation and reporting tools, simplifying salary accounting and ensuring compliance with regulatory requirements.
Payroll Integrations: Bitwage seamlessly integrates with 23 leading US payroll providers, enhancing compatibility and convenience for companies operating in the US.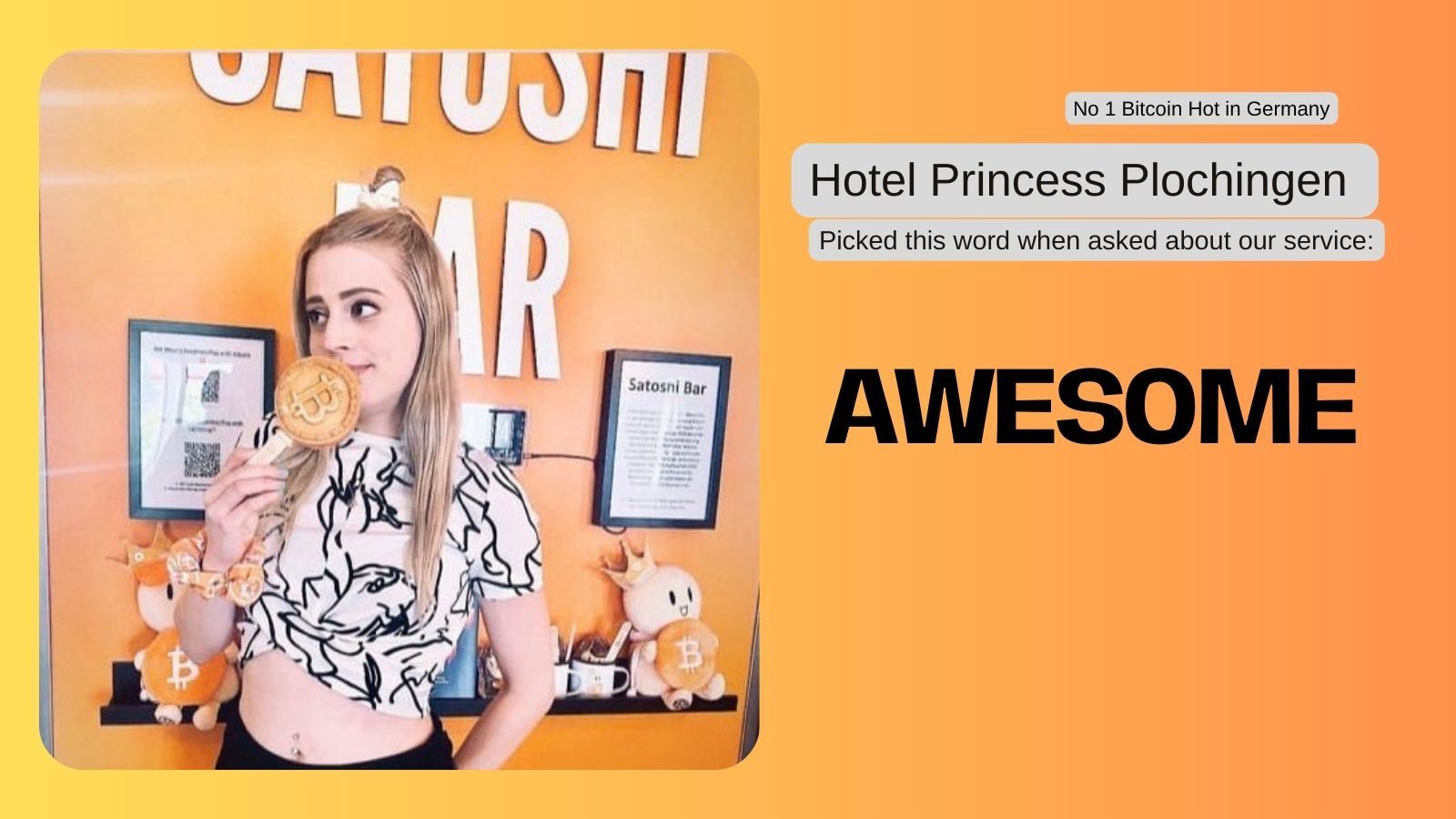 Conclusion:

As Germany embraces the transformative power of Bitcoin, Bitwage takes center stage as the ultimate pioneer in crypto payroll service in Germany. Our unwavering dedication to security, privacy, and innovation positions us as the preferred choice for individuals and companies seeking the future of salary payments. For freelancers in Germany, especially those working for international companies, our solution offers unparalleled advantages. Experience the flexibility and convenience of receiving payments in Bitcoin, allowing you to maximize your financial potential. Percentage in Bitcoin, and the rest to your bank account as Euros, for example. Whether you choose to allocate a portion or the entirety of your payment as Bitcoin, Bitwage empowers you to invest in your future and fully leverage the benefits of our cutting-edge crypto payroll service.
Step into the world of crypto payroll in Germany with Bitwage and unlock a realm of possibilities for your financial journey.
Bezahlt werden mit Bitwage = Get Paid By Using Bitwage
Regardless of who is paying you. Companies, run your payroll with us!
A faster, cheaper, and better way of getting paid.
Say hello to Bitcoin and Crypto Payroll in Germany
Sign up right now - it's free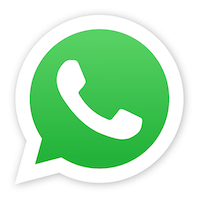 ‌
Contact us or come and say Ciao here:‌
‌ Web - Twitter - Twitter Latam - Slack - Email - Linkedin