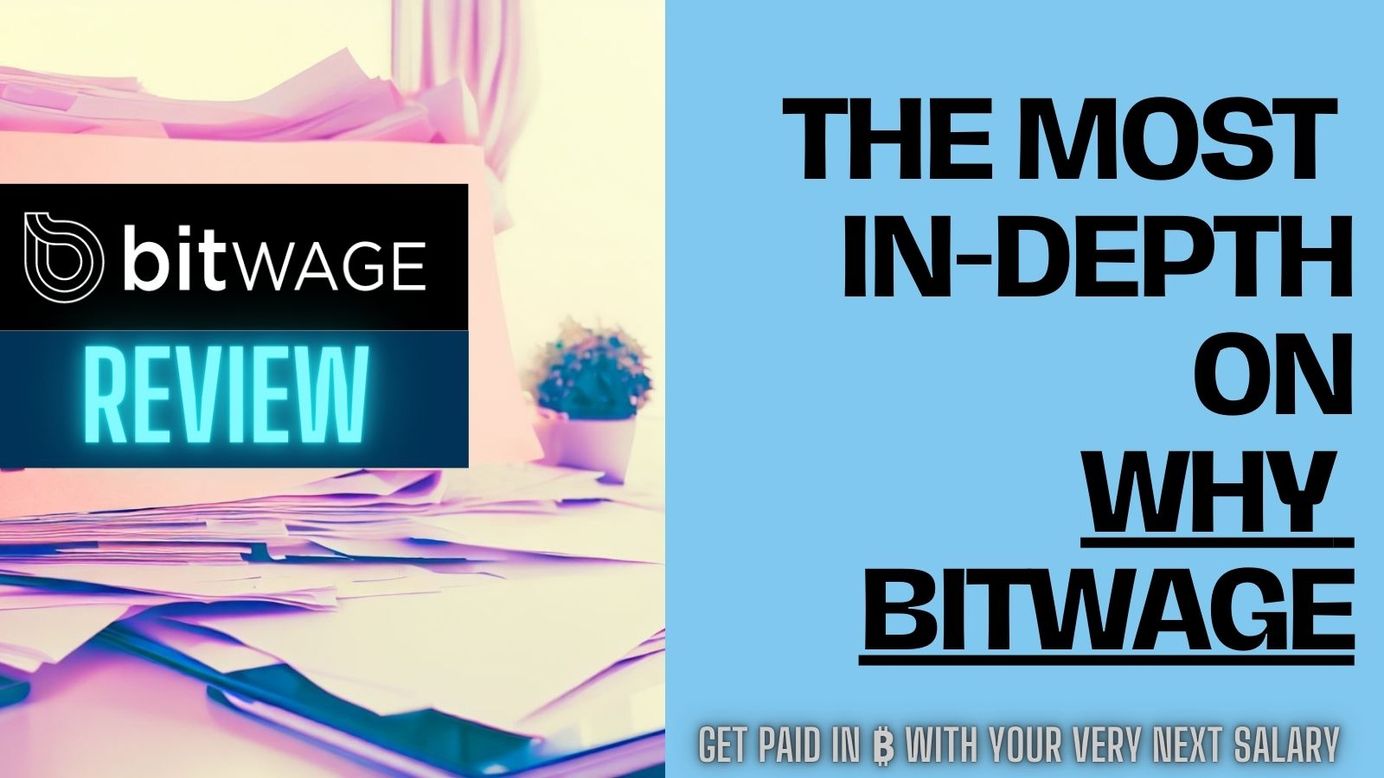 In-Depth Bitwage Review: Why Bitwage Is the Best Payroll Solution
Table of Contents
In today's dynamic landscape of global finance and employment, Bitwage emerges as a genuine game-changer, delivering tailor-made solutions for both individuals and businesses. Whether you're an individual looking to delve deep into the Bitwage experience with an in-depth review or a company aiming to streamline your payroll operations, our platform is your ultimate destination. Individuals? You can use our service as well! Please continue reading.
---
What is Bitwage? Bitwage is an international Crypto Payroll & Invoicing Platform that delivers wages faster, cheaper & easier across borders, for both companies and individuals.
---
Global Reach Beyond Boundaries
Bitwage's exceptional global reach sets us apart from conventional payroll services. Also, conventional payroll services do not allow you it get part of your salary in Bitcoin, stablecoin, or some other crypto. When it comes to us, here at Bitwage it doesn't matter where you are in the world; Bitwage is ready to serve you.
Our unwavering commitment to international and domestic payroll solutions knows no bounds. What truly sets Bitwage apart is the autonomy it offers individuals; no need for employer approval. This unique flexibility makes Bitwage an ideal subject for our in-depth review.
We want to demonstrate to individuals everywhere that you can harness the power of our pioneering service to get paid.
So how does it all work?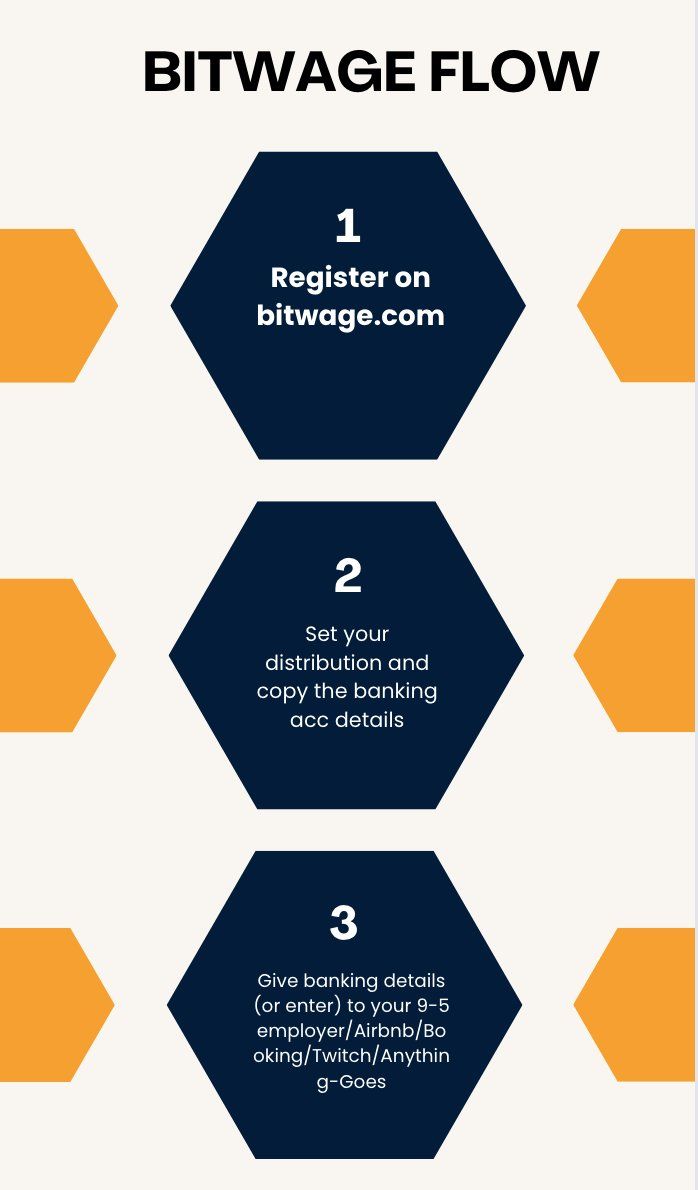 Sign Up: Start by signing up on our homepage as an individual. It's a straightforward process that doesn't require approval from your employer. As easy as opening a new email account, if not easier.
Choose Your Distribution: Select your preferred currency for receiving payments. Bitwage supports various global currencies. From Bitcoin and stablecoins all the way to local currency outputs. You mix and match based on your preference.
Get Your Banking Details: You'll receive a banking account number and routing details from us. Share these details with your employer or platform for payments. You can use us to get paid from Airbnb for example. It does not matter who is paying you. And what is the name of the company. You just have them send the payments to the banking account details that you will provide to them. That's it.
We Receive Payments: Your employer sends your salary or payments to the banking account he was given by you, the same way he was doing it before, but just to a different account. Zero overhead on their part. They do not even know.
You Get Paid: Bitwage receives the funds and converts them into your chosen currency based on your allocation, and we send it your way. We do not keep your money. That goes for both crypto and fiat. We send it to you straight away. Fully non-custodial.
Privacy and Control: Importantly, you have full control over your funds, and your employer doesn't need to be involved in this process.
Protecting your privacy is non-negotiable for us. By using Bitwage, you can be sure that your financial information stays private.
Bitwage provides a privacy focused and efficient method for receiving payments, whether locally or internationally.
Customer Satisfaction: The Bitwage Advantage
At Bitwage, customer satisfaction reigns supreme, as echoed in countless glowing Bitwage reviews from our users. Don't just take our word for it; let our users do the talking:
"Exceptional customer service experience, unparalleled in my life."
"The experience was superb, marked by outstanding and immediate responses."
"Effortless, efficient, and precise."
Direct and Personalized Communication
Experience Bitwage firsthand by reaching out to us directly through various communication channels. Whether you prefer phone calls, WhatsApp, Telegram, Signal, Slack, or email, we're here to accommodate your needs during your testing of our service. And yes, we hope you will write your own Bitwage review on the experience using our service and compare us to any other alternative service that you might have been using previously.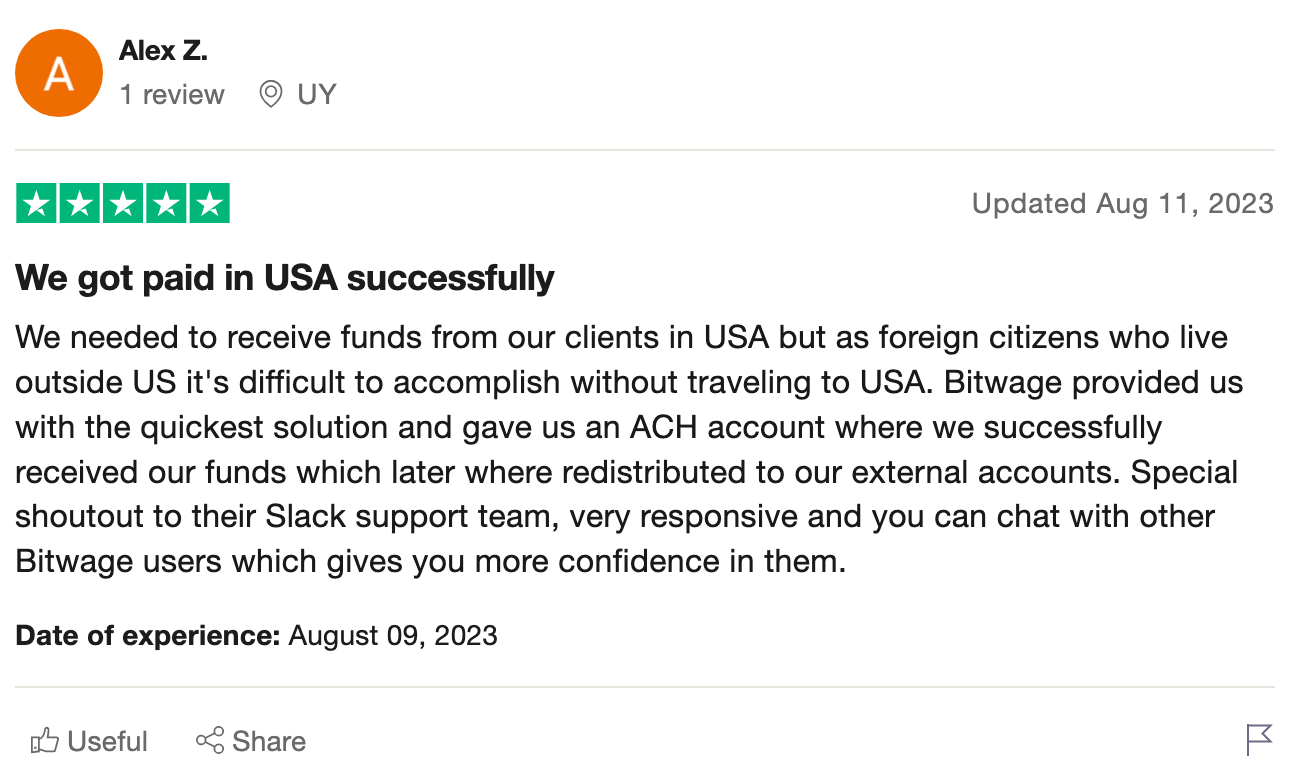 ‌‌Twitter - Twitter Latam - IG - Email - Slack - LinkedIn - Web - Latam web
No generic, outsourced representatives here – you'll connect directly with your dedicated account manager who will provide a true and proper concierge service. Expect us to go above and beyond in addressing any queries or concerns you may have, a feature consistently praised in countless Trustpilot Bitwage reviews.
We leave no stone unturned.
Multi-Currency Flexibility
What truly sets Bitwage apart is our adaptability to diverse currencies. While we seamlessly handle USD, EUR, GBP, CAD, and BRL as inputs, it's the array of local currency outputs that distinguishes us.
We currently support the following local outputs. We are constantly adding more.
🇺🇸 U.S. Dollars
🇪🇺 Euros to SEPA Zone countries
🇨🇦 Canadian Dollars
🇧🇷 Brazilian Real
🇬🇧 U.K. Great British Pound
🇦🇷 Argentinian Peso
🇦🇺 Australian dollar
🇨🇴 Colombian pesos
🇲🇽 Mexican Pesos
🇵🇭 Philippines Pesos
🇮🇳 Indian Rupee
Unleash Transaction Freedom
Bitwage champions freedom and flexibility with limitless transaction capabilities, a focal point of any Bitwage review. Our non-custodial approach puts you in full control of your funds. Rest assured, your financial information remains private when you choose Bitwage, an indispensable aspect deserving of mention in our in-depth review. And if you asked yourself what does non-custodial mean? It means that we are not in possession or in the business of holding your money or your crypto. We receive and send based on your set distribution. There is no wallet of ours or balance on our end, that is yours. What is yours is yours.
User-Friendly Autonomy
Many clients of ours when they give feedback in a survey or just write their own Bitwage review, they often rave about how Bitwage gives them not only freedom but value in general. Because choosing how you get paid in order to get more for your money, is extremely powerful. Designed with individuals worldwide in mind, Bitwage's user-friendly platform empowers you without any need for employer involvement. Your use of Bitwage as an individual can fly under your employer's radar if you wish. Streamlined and hassle-free, it's an invaluable resource for freelancers, remote workers, or anyone seeking efficient payment solutions.
Effortless Fund Transfer
Bitwage revolutionizes the transfer of funds, allowing you to send money to any wallet without incurring miner fees or unnecessary deductions. Since 2014, our exclusive focus on payroll services has made us the go-to choice for both individuals and companies seeking efficient payroll solutions, a credential that distinguishes us and one you might have read in some other Bitwage review, like the one below.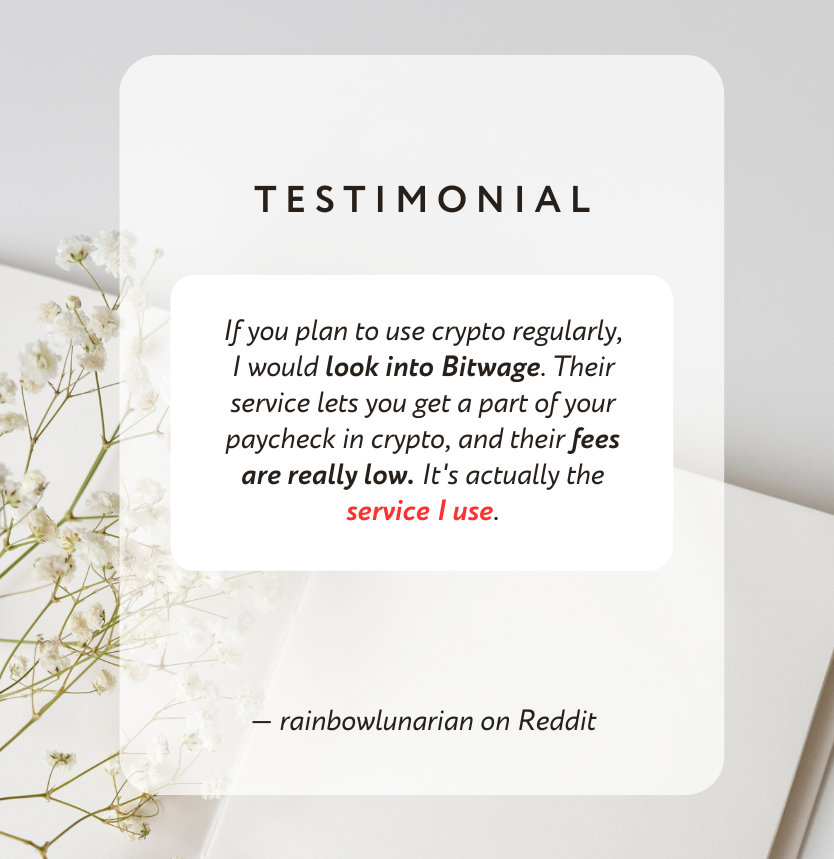 Privacy and Efficiency for Companies
Many sites and social network forums, compare us to traditional systems and alternatives. While we are faster, more efficient, and care very much about your privacy, we do not think a comparison should be made in the first place.
You get paid using our service without requiring your employer to be involved. For companies in pursuit of efficient payroll solutions, please reach out to us.
Let us add value by helping you run payroll with us. You get both privacy and efficiency by using our service and that is something that alternative services just cannot provide. Did we forget to say, you get the expertise of us doing this since 2014. as well?! That as well. 😎

Swift Access to Earnings
For anyone exploring countless Bitwage reviews online, you are aware by now that the speed of access to earnings is a paramount concern when you are getting paid. Bitwage takes pride in its ability to expedite payments, ensuring you receive your hard-earned money swiftly and faster than any other method of payment. Having access to your money ASAP is and always will be our primary concern, one that we have perfected ever since 2014.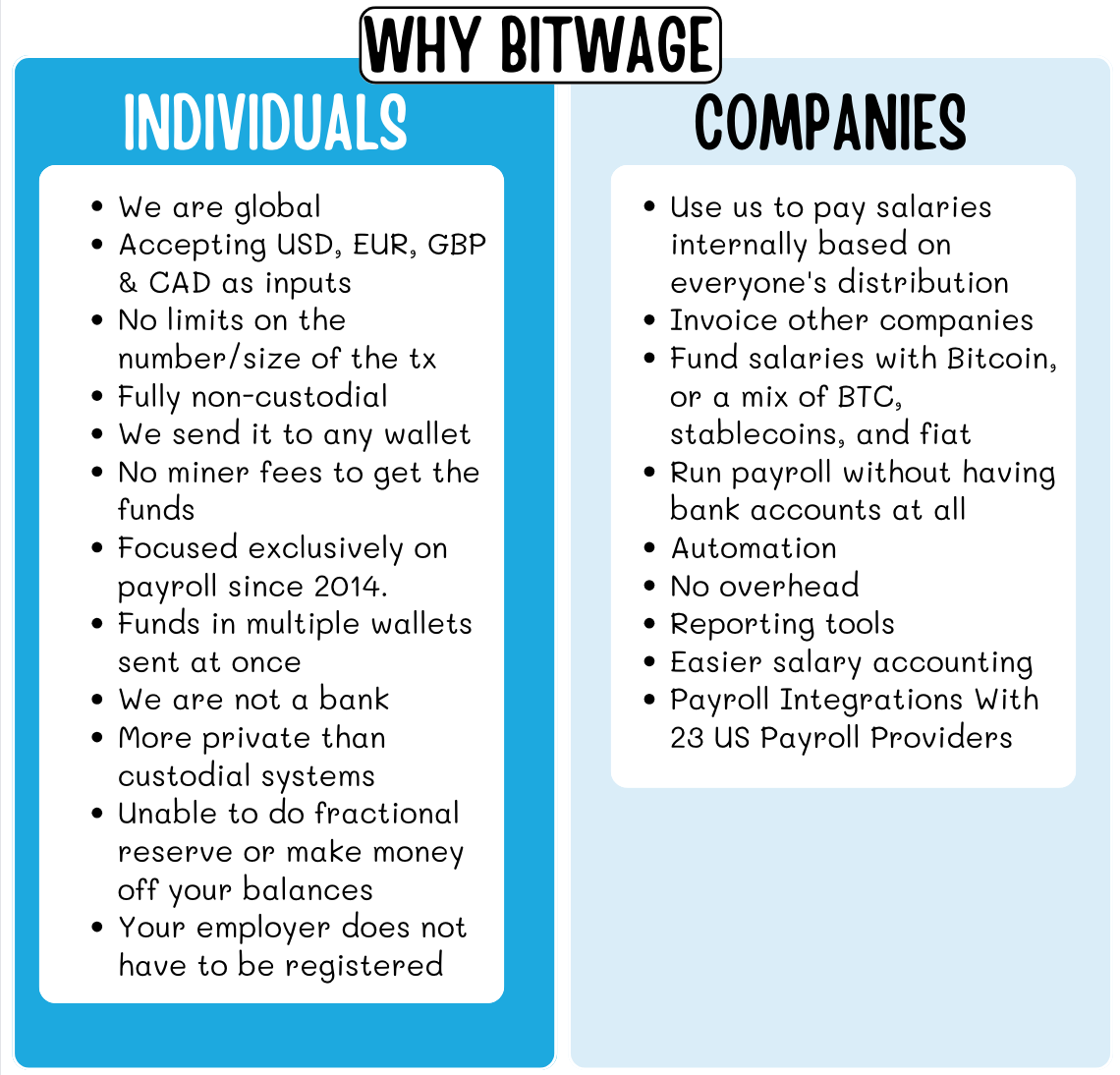 A Prime Example: BtcPayServer
A prime example is the BtcPayServer case study. With Bitwage, this global team (BtcPayServer), dispersed across the world, attains unprecedented payment efficiency, as our Bitwage review should highlight. Read all about how we allowed them to pay their whole team internationally all within a single day: BtcPayServer case-study. And when you read that they are funding the payroll from Japan, and their whole team is global, then it all makes sense Why companies use us to add value to their flow.
It's Free to Get Started
And here's the clincher – it's free to sign up for our service, whether you're an individual or a company. No charges if you decide not to use our service after signing up. How do we make our money then? We operate on a small percentage in the form of a spread, applied only when you use our service to get paid. This sustainable approach ensures our growth, exceptional customer service, and the maintenance of a pioneering platform so doing a longer form Bitwage review and not mentioning the fact that our company has a sustainable approach with long-time preference, just would not feel right.
Beyond Cryptocurrency: A Holistic Approach
Across the Internet, and not just in some random Bitwage reviews, we are recognized as a crypto-focused international payments company – an accurate portrayal. We pioneered the global acceptance of Bitcoin payments, yet our scope extends beyond crypto. We simplify international payments, making us an all-encompassing choice for individuals and companies alike.
The Bitwage Legacy
Bitwage stands tall as the largest global payroll and freelancer management platform, offering seamless Bitcoin and crypto payroll integration. Our services empower businesses and employees to send, receive, and manage salaries in Bitcoin and other cryptocurrencies. Since our inception in 2014, Bitwage has processed over $250 million in Bitcoin payroll transactions, serving more than 60,000 registered users and 3,000 companies across 100+ countries.
Our dual focus on payroll for companies and individuals offers flexible solutions to accommodate a variety of payment needs.
Our Bitwage Review Conclusion - Experience Bitwage Today
In conclusion, if you've arrived here in search of a reliable Bitwage review and Why Bitwage, we hope you've found exactly what you were looking for.
At Bitwage, we offer innovative solutions, global reach, unparalleled customer support, diverse input and output options, non-custodial security, and an unwavering commitment to privacy. Whether you're an individual or a company, Bitwage empowers you with the tools for efficient, hassle-free payments.
It's time to experience Bitwage for yourself – visit our homepage, sign up for our service, and put it to the test with your very next payroll.
Embrace the future of payments with Bitwage.
Contact us or come and say Hi here:‌‌
‌‌Twitter - Twitter Latam - IG - Email - Slack - LinkedIn - Web - Latam web
---