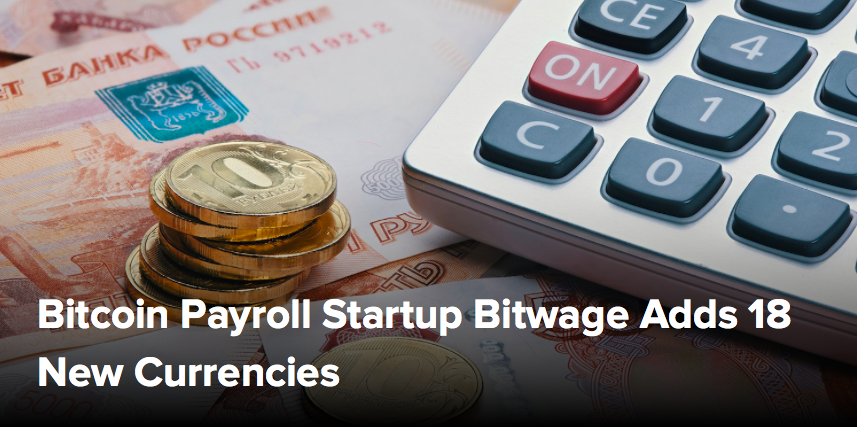 (CoinDesk) Bitcoin Payroll Startup Bitwage Adds 18 New Currencies
Table of Contents
Wolfie Zhao, Nov 2, 2017 at 12:00 UTC | Updated Nov 2, 2017 at 12:01 UTC
Bitcoin payroll startup Bitwage has today announced support for an additional 18 fiat currencies, including the Russian ruble.
Founded in 2014, the startup uses bitcoin to let employers route international payments to workers, allowing them to receive wages in either a local fiat currency or bitcoin, or a combination of the two. The new additions extend support for the existing seven currencies to a total of 25.
In a statement, Bitwage's president, Jonathan Chester, explained the reason for adding the options, saying, "With the recent interest in digital currencies over the last year, there has been tremendous growth in users who want to receive their wages in or through digital currency."
The new currencies added to the payroll service are: Mexican peso, Brazilian real, South African rand, Turkish lira, Saudi Arabian riyal, Israeli new sheqel, Swedish krona, Russian ruble, Romanian leu, Polish zloty, Norwegian krone, Danish krone, Czech koruna, Hungarian forint, New Zealand dollar, Singapore dollar, Hong Kong dollar and Philippine peso.
According to figures provided by Bitwage, the service has transacted over $30 million to date, and has over 18,000 users worldwide.
Russian rubles image via Shutterstock
Full article available here.
---