(BRAVE NEW COIN) Bitwage reports dramatic growth, while expanding services
Table of Contents
Luke Parker 23 Sep 2016 11:57 UTC
Founded in 2013, bitcoin payroll and international wage payment service, Bitwage, offers fast and low-cost payroll services, distributed in fiat currencies and bitcoin. The company currently has over 6,000 registered users and has processed almost $8 million in payroll transactions.
The service was originally created as a bitcoin payroll service for employers, and expanded to employees and freelancers in November 2014. Bitwage Payroll service for Individuals (BPI) has been available in the US since January 2015.
BPI allows employees, freelancers, and contractors globally to receive wages from any U.S. employer and get paid in their local currencies. Google, AirBnB, Facebook, Uber, the World Health Organization, Upwork, GE and United Nations Food & Agriculture Organization all have employees that use Bitwage to receive their wages.
"Prior to Bitwage, employees, freelancers and contractors were required to receive a wage from their employers and clients in whatever format their employers or clients chose." -- - Jonathan Chester, Bitwage Founder & President
In November 2015, the company raised $760,000 to expand European operations. The funding round included investors such as Orange Silicon Valley, Tim Draper's Draper Associates, Halsey Minor's Cloud Money Ventures, Max Keiser's Bitcoin Capital, Saeed Amidi, and BnkToTheFuture.
At the third Fintech Americas conference in Miami on Thursday, Bitwage founder and president Jonathan Chester made several new announcements. The audience of 400, including bankers and financial services professionals, IT executives, FinTech entrepreneurs, consultants, academics and investors first learn of the company's new product called "My Employment" (M.E.).
Bitwage's clients not only have a problem with traditional slow and expensive payments but they also run into trust issues, Chester said. When trying to acquire new customers across borders, a freelancer in Brazil trying to acquire a customer in the US for example, the US customer has "no way to trust or verify the value of the Brazilian freelancer's unverified resume with names of universities and employers that no one in the United States even knows," he claims.
To overcome this trust issue, freelancers typically join a marketplace. However, the largest freelancer marketplace, Upwork, charges various service fees. Clients are charged a payment processing fee of 2.75 percent. Freelancers are charged 20 percent for the first $500 they bill a client across all contracts with them. If clients are billed between $500.01 and $10,000, the platform charges 10 percent. For billings exceeding $10,000, the fee is reduced to 5 percent.
Bitwage M.E. will cost $9.99 monthly, Chester told BNC. During his speech, Chester also informed conference audience that Bitwage is launching a new set of fees. While the service was previously free, all local currency withdrawals will now cost 1%.
With the launch of Bitwage M.E, the company is not only trying to reduce costs, but tackle the trust issue, replacing traditional "Review-based reputation systems" with "Payment-based reputation systems." Chester said that the former is "a far less accurate reputation mechanism" than the latter. "M.E. is a payment-verified professional profile," Chester said, adding that workers can "port reputation from freelance marketplaces and directly from the clients they work with."
"While review-based systems are very subjective and easy to manipulate with fake accounts, payment-based reputation systems are based purely on the monetary value a worker has earned and are very hard to manipulate as money needs to be sent to earn reputation." -- - Chester
Chester is not the first to claim that there is a trust issue within freelance marketplaces. Professor Hema Yoganarasimhan, of University of California noted the same problem in her paper about "the Value of Reputation in an Online Freelance Marketplace" in 2013.
Professor Yoganarasimhan asserted that review systems in many online marketplaces can fail for a variety of reasons. They include "imperfect monitoring", "reliance on unverifiable and voluntary feedback", "vulnerability to Sybil attacks" and "retaliation concerns."
"Although freelancing has grown in recent years, it faces the classic 'information asymmetry' problem," states Yoganarasimhan. "Buyers face uncertainty over seller quality. Typically, these markets use reputation systems to alleviate this issue, but the effectiveness of these systems is open to debate."
M.E. tackles the issue with the basics first. Workers can add generic profile information, such as pictures, biographies, and their resumes. Each profile has its own URL with three settings, allowing workers to control who can see their profile. The public setting lets anyone view the profile while the private setting does not. The third option is "link only" setting which only allows those who have the specific M.E. Profile link to view.
Users can then build a profile showing payment amounts, length of payments, and various Bitwage badges. An example is a top 10% Volume and a top 10% Transaction badge, awarded to the top 10% volume generating and transaction receiving workers on the platform.
Potential clients will be able to see payment-verified information, which serves as proof that the work was done and how well, based on wages earned. For added verification, Chester noted that all payments are on the blockchain.
Distributions can be in bitcoin, bank-to-bank transfers, Uphold or Xapo debit cards. During his speech on Thursday, Chester announced that seven more currencies have been added to Bitwage's list of outputs bank-to-bank outputs. Bank-to-bank transfers were previously restricted to Philippine peso and Brazilian real. Bitwage partnered with Filippino wallet startup Coins.ph in January 2015 to offer output in Philippine peso. In August, Brazil real was added. Meanwhile, Uphold supports over 30 currencies, and Xapo over 170.
"We are officially launching local currency payouts in the US, Eurozone, Argentina, Vietnam and India. This means that freelancers and contracting companies working with US or European companies can now receive their wages in USD, Euro, BRL, PHP, ARP, VND, and INR without requiring their clients to sign up through our Bitwage Invoicing solution." -- - Chester
Bitwage has to date processed over $7.9 million in payroll transactions, over $1 million of which was in the month of August alone. "This is a really exciting moment for us here at Bitwage," Chester said. "In just one year, we went from performing the number of transactions we had fulfilled in one year to just one month."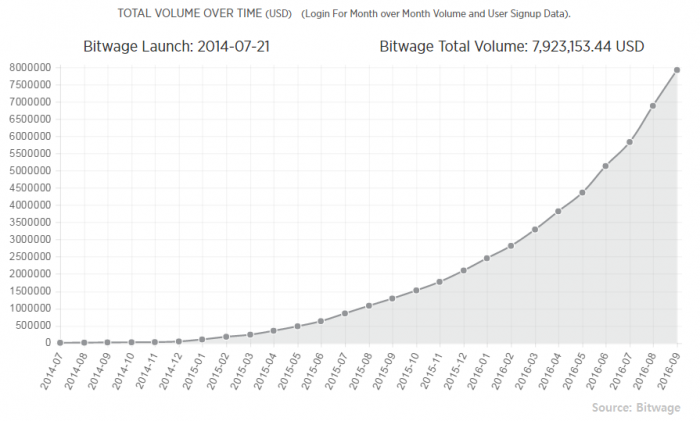 The freelance industry is also growing by leaps and bounds. In October 2015, Freelancers Union's Founder and Executive Director, Sara Horowitz, wrote that "the freelance surge is the Industrial Revolution of our time." She cited that more than 53 million Americans are now earning income from work that's not a traditional 9-to-5. "That's 1 in 3 workers."
In the UK, research conducted by Kingston University and commissioned by the Association of Independent Professionals and the Self Employed (IPSE) estimates 1.91 million freelance workers in the UK. "Freelance workers constitute 6 per cent of all UK workers in employment," the report reads.
According to leading financial services business, Payoneer, India's freelance economy is booming this year. With approximately 15 million freelancers, India has the second highest number of freelance professionals behind only to the US. "These 15M Indian freelancers take up a whopping 40% of total freelance jobs offered worldwide, this clearly manifests the dominance of Indian Freelancers over their western counterparts," the company wrote.
A June 2015 World Bank report that market size for online freelancing is projected to grow to $4.8 billion in 2016. By 2020, the industry will "generate gross services revenue in the range of $15 billion to $25 billion," the report states.
Full article available here.
---