Bitwage Becomes World's First Company to Process Salary Payments on Lightning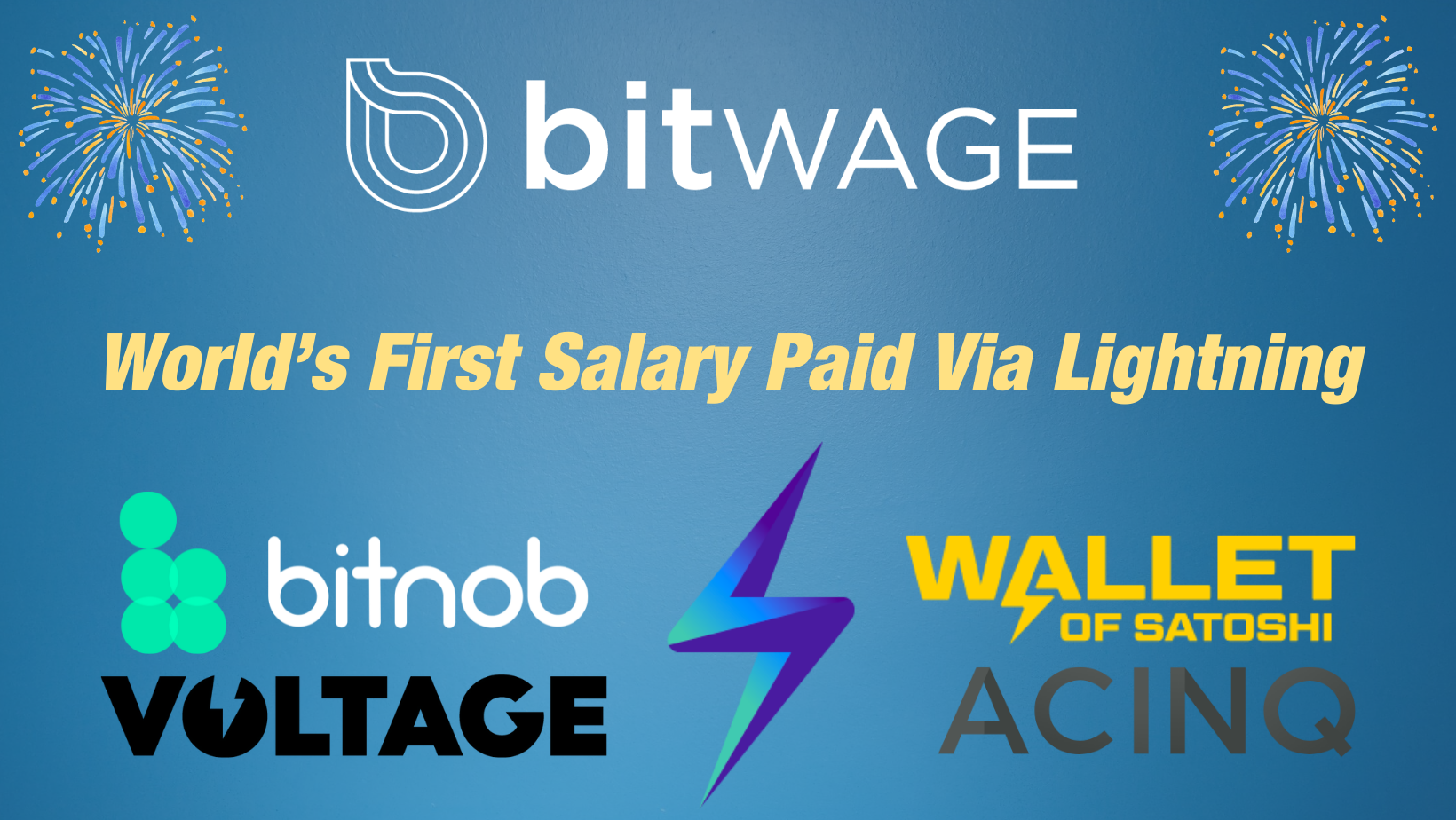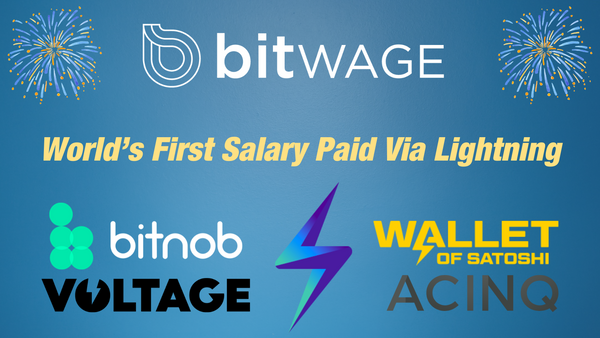 At Bitwage, we envision a digitally connected global workforce without borders. People should have access to any form of money they need to protect their wealth and have it deposited where they feel it is safest.
As leaders in Bitcoin payroll solutions since 2014, we are committed to pushing the limits of these technologies in order to modernize the antiquated payroll, HR, and invoicing systems. Our solutions today include a B2B service – giving companies the power to leverage our bitcoin payroll and bitcoin 401k products – and a B2C service that allows any employee in the world to receive a portion of their salary into any wallet, whether it be a hardware wallet or their favorite exchange.
Today we are happy to announce the worlds' first salaries paid out entirely on Bitcoin's lightning network. This is the first step in bringing payroll, HR, and invoicing into layer-2 solutions.
In this scenario, we have chosen two individuals to receive lightning payouts, both of which represent distinct, real-world use cases.
The first individual paid was Bernard Parah, CEO of the Nigerian-based Bitcoin company, Bitnob. Nigeria is currently suffering from politically-fueled monetary problems and rampant inflation. As a result, Nigerians have turned their sights to cryptocurrencies, especially bitcoin, in an attempt to preserve their wealth and to leverage the value of their salaries.
"The concept of lightning payroll means I can get paid by the hour or even by the minute. Time means money, this is it," said Parah. "Bitwage is a pioneer in the bitcoin payroll space and it is refreshing to see them push the boundaries of innovation and take the important first step in making this a reality."
The second individual paid was professional soccer player Alex Crognale of the United Soccer League's Birmingham Legion. This makes Crognale the first-ever athlete to get paid their salary completely over Lightning.
"It is great to be a part of Bitwage's quest to continue to innovate in the digital payroll industry," said Crognale.
Bitcoin payroll is a very important part of the lightning ecosystem. In order for individuals to use the lightning network, a Bitcoin transaction must be made to create a lightning channel within the network. While base layer Bitcoin fees are low right now, there could be a future where it costs $50 to put funds onto lighting. If users are getting paid directly on lightning, that means everyday people would never have to spend these large on-chain to add funds onto the lightning network.
Additionally, much of the lightning network today is focused on spending with merchants but there is a flip side to this: receiving funds. Merchants – or anyone receiving – are in a situation where they have to secure their ability to receive funds (inbound liquidity) and then have a reliable and well-connected way to spend it forward.
Some deal with this by constantly rebalancing channels, while many others take out Bitcoin from lightning, closing channels, and ultimately removing much needed liquidity for the network.
By enabling lightning payroll, Bitwage will be able to create inbound liquidity for merchants while people on the receiving end keep more funds on the network and enable more liquidity and scalability throughout the channels. We believe that lightning payroll will become a crucial part of enabling and scaling the lightning infrastructure into the mainstream.
Bitcoin's lightning network promises the ability to enable global, instant payments for almost no fees. Our vision for Lightning payroll is one where any user can add the wallet of their choice, get paid their salary, and immediately spend it through any merchant connected to the main network.
Lightning payroll is just the first step in our vision to transform the way people get paid. Today is but a small step in a grander journey that we proudly embark upon with our fellow bitcoiners.
Bitwage bitcoin payroll is available now for both individuals and businesses. Sign up today: https://www.bitwage.com/
Bitwage partnered with several entities to ensure the success of our lightning payroll product.
ACINQ
Led by CEO Pierre-Marie Padiou, ACINQ has been building Bitcoin native-products and services since 2014. They are also known for hosting the world's largest node with the most number of channels. To help Bernard Parah of Bitnob secure inbound liquidity, ACINQ leveraged their node to ensure that the transaction was correctly processed.
Pierre-Marie: "As the network matures and its capacity increases, it becomes suitable for larger and larger transaction amounts, as Bitwage has demonstrated by paying a salary over Lightning. We are very happy to help Bitwage develop this new, ambitious use case."
Wallet of Satoshi
Wallet of Satoshi prides itself in being the world's simplest Bitcoin Lightning Wallet. USL player Alex Crognale used their wallet to receive his lightning salary payment.
"Wallet of Satoshi is excited to be partnering with Bitwage, one of the industry's longest-running and most respected services, to bring wages over Lightning to the world," said Daniel Alexiuc, CEO of Wallet of Satoshi. "Being paid in Bitcoin brings the benefits of sound money to everybody in the world, and we're looking forward to many more people using this fast, convenient and low-cost method of payroll."
Voltage
Lightning node provider, Voltage, helped facilitate the process by providing a dedicated lightning node for the salary payments.
"This is exciting for us because we can play a key role by providing reliable Bitcoin infrastructure to the global leader in Bitcoin payroll," said Voltage CEO Graham Krizek. "All boats rise in this situation. Bitwage clients get a strong Lightning experience, and Bitwage can rapidly scale their offering."
About Bitwage
Bitwage is the global leader of bitcoin payroll services – headquartered out of San Francisco – with operations in the US, Europe, Latin America and Asia. Bitwage offers employer, employee and freelancer services. Employees and freelancers are able to receive any percentage of their wage in bitcoin with unique bank accounts offered in US, EU and UK. International users can also receive their wages faster & cheaper than traditional banking channels through blockchain technology, receiving bitcoin or fiat on the other end. Bitwage has processed $120MM in transactions with over 50,000 users and has received $4MM in funding from Draper Associates, BnkToTheFuture, Candela Reach Capital, Plug and Play, BPI France and many others.