Professional Football Player Alex Barrett Gets Paid in Bitcoin with Bitwage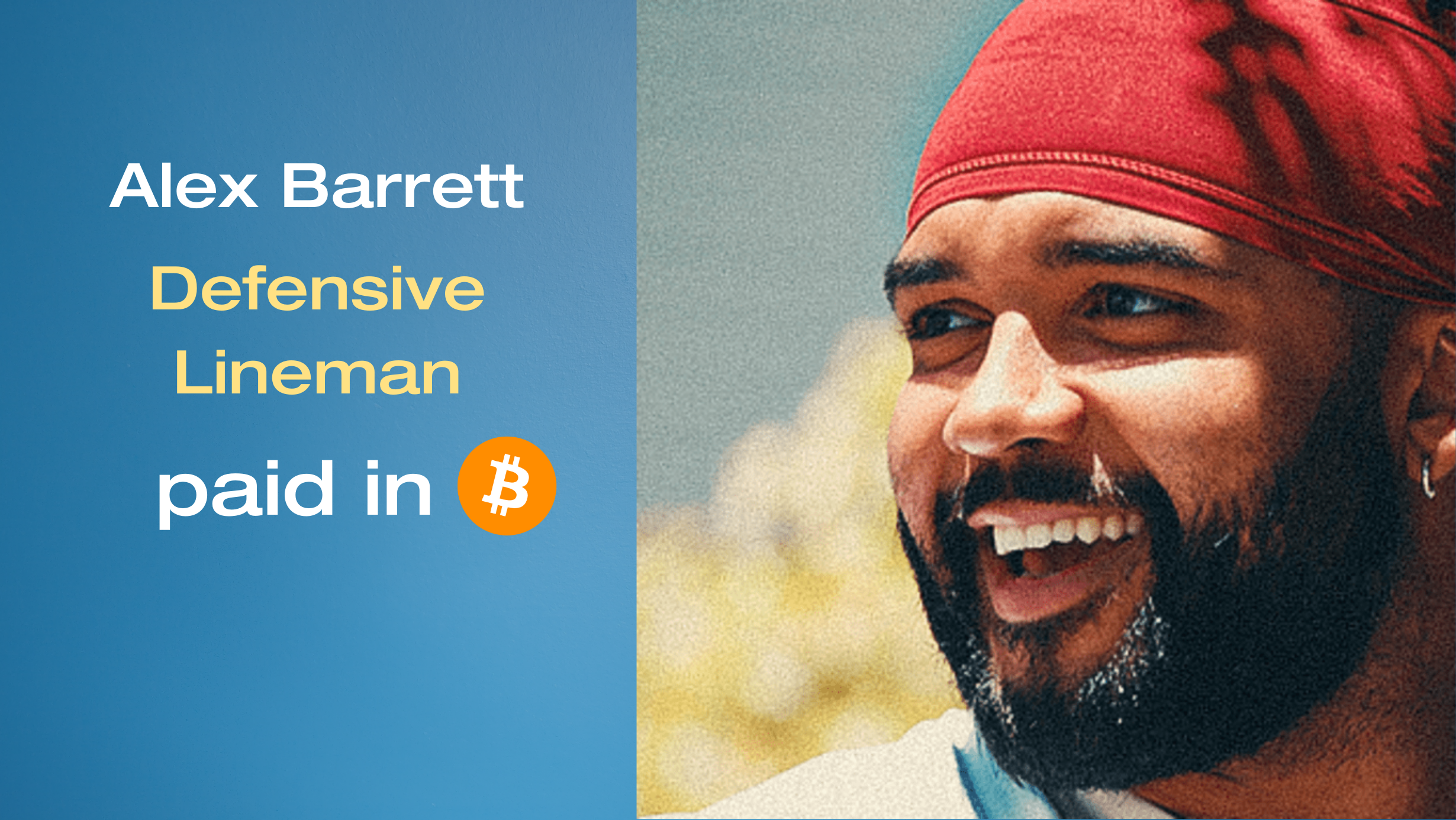 The world's largest Bitcoin and crypto payroll firm, Bitwage, has officially made its way into professional football. On May 16, 2022, Professional Defensive Lineman, Alex Barrett, used the Bitwage platform to receive 100% of his earnings in Bitcoin.

"I stumbled across Bitwage in a Twitter Spaces room a few months ago when they announced that they were supporting UFC fighter Matheus Nicolau and his journey to get paid in Bitcoin," said Barrett. "I was amazed by how Bitwage set this guy up so easily and with VIP service. I thought, 'why not me?'

Shortly after that initial encounter, Barrett began to have meetings with the team. It didn't take long for Bitwage to offer Barrett tickets to Bitcoin 2022 in Miami – the largest Bitcoin conference in the world – where the relationship was made official.

"When I came down to Miami, I saw the Bitcoin revolution in-person. I was bullish before, but something shifted in me," said Barrett. "I was completely sold, and getting to meet the Bitwage team was great. They treated me like their number-one priority, even before I was technically their client."

Jonathan Chester, CEO of Bitwage, personally met with Barrett in Miami to make the deal happen.

"Seeing Alex's enthusiasm was exciting for us," said Chester. "When working with athletes and influencers, we want to work with people who truly believe in Bitcoin. Alex is in this thing for the long run and so are we. It was a natural fit."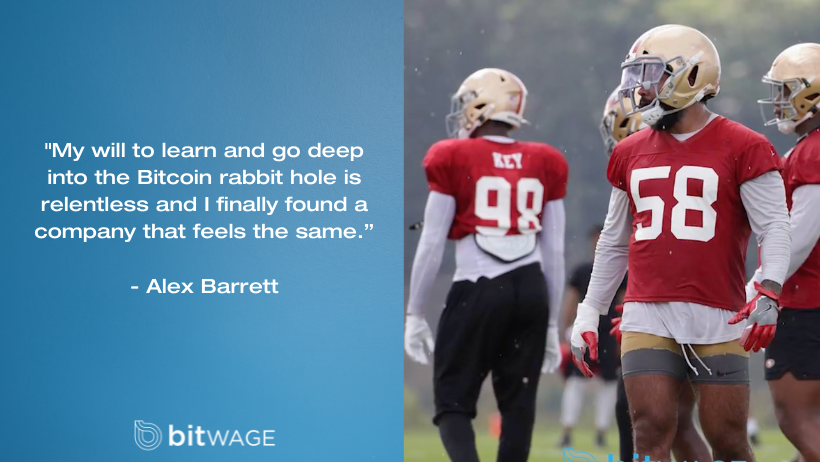 Bitwage is a company known for their premium payroll service that allows anyone in the world to get paid in Bitcoin without their employer needing to be onboarded. This creates a solution where paychecks are faster, cheaper and accessible to anyone in the world. They've been providing this premium service since 2014.

Here's how it works: You register with Bitwage and receive a bank account number. Next, you choose what percentage you want to receive in Bitcoin, and then you give the new account number to your employer. Once they send the paycheck, you will receive Bitcoin in an address that you control. If you did not allocate 100% to go into Bitcoin, you will receive the rest of the money to your regular bank account. This is exactly how Alex is receiving his payments from the San Francisco 49ers from now on. Bitwage also has services for companies that want to offer the benefit directly as well.

"When I decided to have my money put into Bitcoin, I was clueless," said Barrett. "Thankfully, I found Bitwage and they got me exactly where I needed to be. My will to learn and go deep into the Bitcoin rabbit hole is relentless and I finally found a company that feels the same."

Bitwage team flew to San Francisco and provided their well-known VIP concierge service to Barrett.

"The in-person onboarding made me feel like a valued part of the company," said Barrett. "This personal touch was unlike anything I've ever seen before. I definitely recommend them. But most importantly, I learned a lot. The company takes their time in helping athletes and influencers truly understand Bitcoin."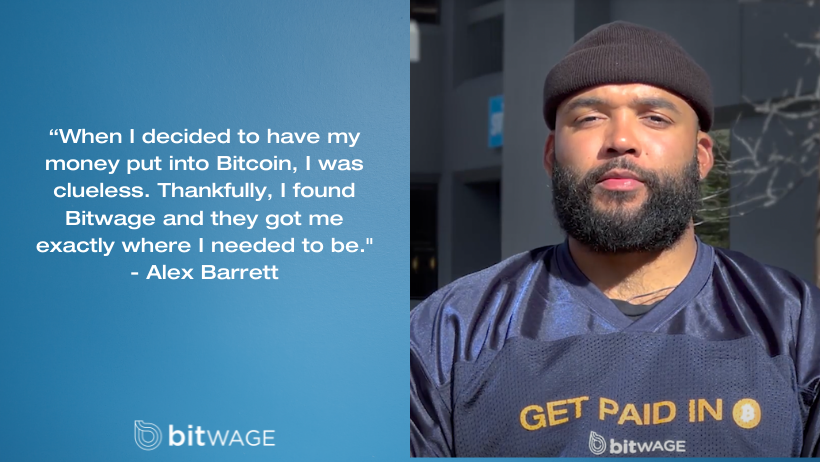 "We pride ourselves in education," said Chester. "It's vitally important that we spread the knowledge and educate our VIPs so they become true sovereign individuals. But this treatment isn't exclusive to athletes and VIP customers: it's available to anyone who signs up to our service."

Alex symbolizes the continuation of a trend for athletes to get paid in Bitcoin. Earlier this year, one of the best MMA fighters in the world Matheus Nicolau became the first-ever Latin American athlete to get paid in Bitcoin. Professional soccer players Achara Ifunanyachi and Alex Crognale made similar moves in 2021 by using Bitwage as their premium Bitcoin payroll service provider as well.