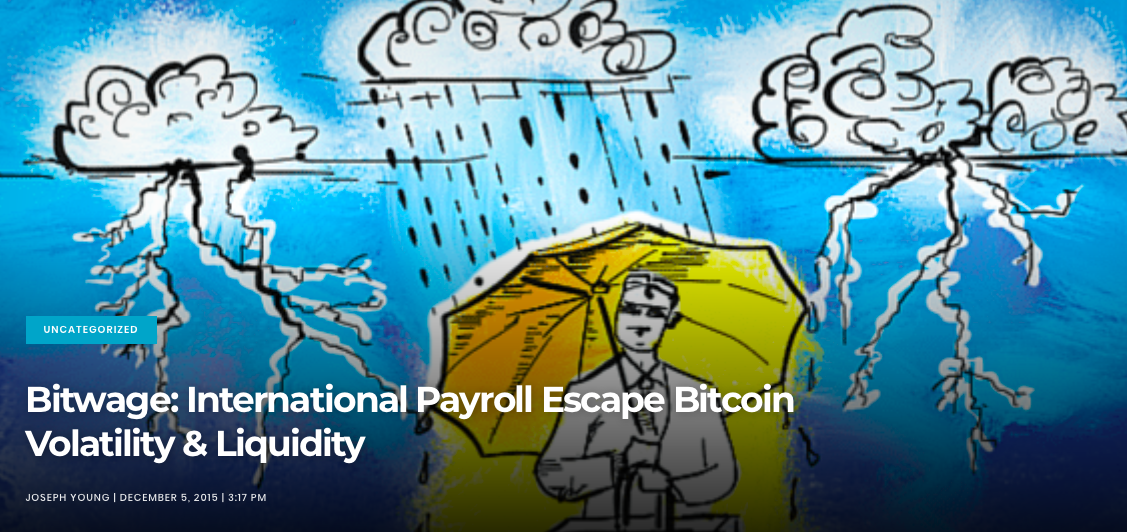 (NewsBTC) Bitwage: International Payroll Escape Bitcoin Volatility & Liquidity
Table of Contents
JOSEPH YOUNG | DECEMBER 5, 2015 | 3:17 PM
Freelancers, employees, expat workers and startups in developing countries such as Argentina, the Philippines and Indonesia often struggle in settling transactions with banking systems, remittance outlets and mobile payment networks.
Over the past few months, bitcoin startups including Bitwage, Coins. ph and Bitspark have been providing various bitcoin services to assist expat workers to send payments internationally efficiently, with low transaction and conversion fees.
This week, Bitwage announced local support for users in Brazil, Mexico, Philippines and the Eurozone, allowing freelancers and employees to receive bitcoins in their local currency.
"On average, it costs 8% to send funds across borders and often takes up to five days for funds to settle. A system that was one eighth the cost and dramatically faster was something that employers were now willing to adopt, as it benefitted them as well as the employees," wrote Bitwage CEO and co-founder Jonathan Chester.
Although many payment options are available to freelancers, traditional means of payment often result in a significant loss in their income. For example, in Malaysia, expat workers are forced to invest a portion of their salaries into a government fund due to an initiative which restricts the circulation of cash in the country.
Therefore, Filipino, Korean, Chinese and Thai workers (which are responsible for a substantially large part of the economy) cannot send the Malaysian ringgit back to their countries and families. In other words, they cannot avail both local and international remittance outlets, banking systems and services.
Argentine freelancers suffer from a similar problem. According to Chester, most freelancers in the country give up around 40% of their income due to the complex process involved with the payout and retrieval of their salaries.
"Argentine freelancers were waiting five days, giving up 40% of their income during that process, and sometimes their payments were simply lost in an opaque, slow moving system. Their only other alternative to losing 30% of their wage was getting on a boat to Uruguay to pick up their funds. Through us, Argentine freelancers were receiving wage payments from the U.S. or western Europe to Argentina in a day, at a cost of 1% of the amount, from the comfort of their home. After receiving their wages, the freelancers would figure out how to get their local currency on their own," wrote Chester.
The sale of U.S. dollars, gold, silver and other valued metals in the country are also restricted. Even worse, individuals are not allowed to take the dollar outside of their country without paying a large amount of tax and conversion fees. Bitwage aims to help these freelancers in Asia, Europe and the Americas to avoid Bitcoin volatility and liquidity issues in the upcoming months.
Full article available here.
---