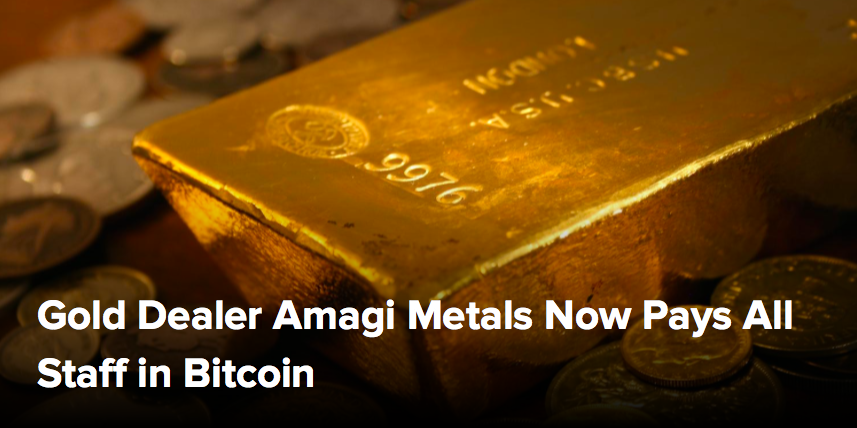 (CoinDesk) Gold Dealer Amagi Metals Now Pays All Staff in Bitcoin
Table of Contents
Sanne Wass,Jan 7, 2015 at 18:42 UTC | Updated Jan 8, 2015 at 03:29 UTC
Precious metals dealer Amagi Metals announced it is now paying its entire staff in bitcoin via payroll service provider Bitwage.
The move forms part of the company's plan to 'divorce' the US dollar by 2017, where it will stop accepting the fiat currency as payment method.
Amagi Metals has worked with bitcoin for two years and, according to company data, 30-40% of its costumers currently pay with the digital currency.
Speaking to CoinDesk, CEO Stephen Macaskill said he wanted to find a company that could handle bitcoin payroll seamlessly and test it with his own paycheck. Later, he put the proposition to others at Amagi:
"I made a comment about it at a staff meeting and was surprised, and excited, to find out that everyone was really eager to go full steam ahead with this. So we made this as a voluntary option, and everyone jumped on board immediately!"
Every employee at Amagi Metals has set a percentage of their paycheck, both big and small, that they wish to be paid in bitcoin. To demonstrate his support, Macaskill will personally be paid roughly $40,000 of his salary in bitcoin this year.
Despite the challenges posed by operating a business with bitcoin, Macaskill expects a higher degree of stability in the long run. He said:
"Bitcoin volatility may have concerned me a year ago, but now there are so many different options to hedge bitcoin against fluctuations, that I'm not too concerned. I also think that if you're in it for the long run, it is inevitable that volatility will continue to drop as adoption grows."
A popular paycheck
Many other bitcoin-friendly companies have already adapted to a bitcoin payroll. At wallet provider Blockchain for instance, all workers are paid in the digital currency. A survey from Bitwage last year revealed that 47% of bitcoin companies are open to paying their employees in the digital currency.
One of Amagi's competitors, Bullion Bitcoin, has been paying all of its employees' salaries in bitcoin since the company was set up in 2013. Founder Adam Cleary told CoinDesk he welcomes Amagi Metal and other businesses to the community:
"It helps to contribute to build the bitcoin ecosystem if people are willing to treat bitcoin as a currency in its own right and to accept it as a mean of payment."
Bullion Bitcoin is an online exchange for physical gold bullion and bitcoin, and it deals with no fiat currencies. Cleary said that no employee has yet asked to have their salary paid in fiat money, and ended:
"Our staff think it's cool. We all believe in bitcoin here."
Featured image via Bullion Vault/Flickr.
Full article available here.
---