(CoinDesk) 47% of Bitcoin Companies Are Open to Paying Employees in BTC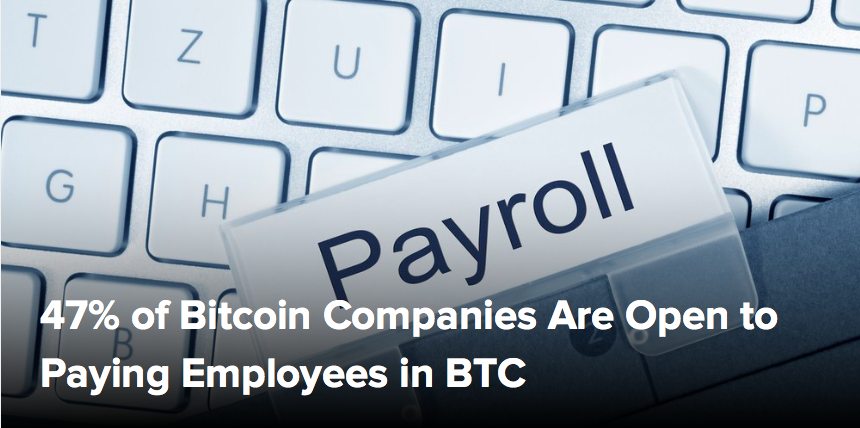 Pete Rizzo, May 6, 2014 at 19:30 UTC | Updated May 7, 2014 at 08:50 UTC
A newly released survey from Bitwage, a bitcoin-focused payroll solution provider, has revealed that 47% of bitcoin companies are open to paying their employees in the digital currency.
The survey sought to assess the sentiment toward bitcoin payroll options held at more than 150 bitcoin-friendly companies, most of which were based in the US. In total, 38 companies responded, with 18 reporting they would be open to paying bitcoin wages.
Of the companies surveyed, 10.5% of the employers who responded are currently paying employees, at least in part, in bitcoin.
Notable bitcoin companies that pay employees in the currency include Coinbase, Blockchain and Alix Resources.
Bitwage noted that the responses it received also serve as evidence that bitcoin payroll solutions are attracting talented professionals, stating:
"The bitcoin wage is opening companies up to entirely new talent acquisition markets that they would have previously been unable to reach, while also facilitating low cost international payroll payments."
The study follows a notable January survey conducted by Tech in Motion that sought to assess the sentiment of bitcoin payroll solutions in the broader tech industry. That report found that 51.12% of 847 respondents would happily work for the digital currency.
Employee incentivization
In addition to new data on how bitcoin companies feel about digital currency payments, BitWage also gathered more general information on cryptocurrencies by allowing respondents to freely comment on questions.
For example, it highlighted two companies – AcademyX and IVPN – that are incentivizing employees through bitcoin payments.
Bitwage noted AcademyX is now implementing contests with bitcoin prizes that encourage employees to increase their IT knowledge, while IVPN has offered bitcoin to customers in exchange for help with product testing.
Bitcoin payroll roadblocks
Still, such innovation is being blocked in some countries by what the report cited as problematic regulatory regimes in countries like Belgium, Canada, Holland and Italy.
In addition, employees who do accept bitcoin must conduct additional tax calculations on capital gains earnings, while also navigating the still-growing bitcoin economy when purchasing essential everyday items.
For more on what it's like to receive your salary in bitcoin, read our most recent in-depth report here.
Payroll image via Shutterstock
Full article available here.