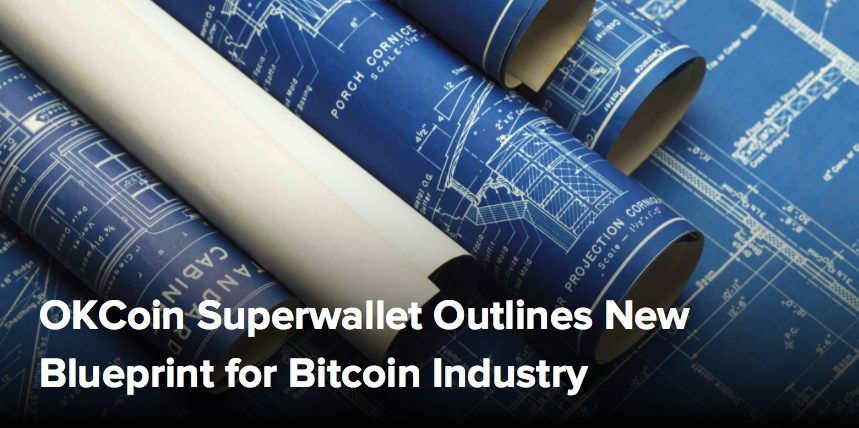 (CoinDesk) OKCoin Superwallet Outlines New Blueprint for Bitcoin Industry
Table of Contents
Pete Rizzo, Apr 22, 2015 at 14:00 UTC | Updated Apr 22, 2015 at 22:05 UTC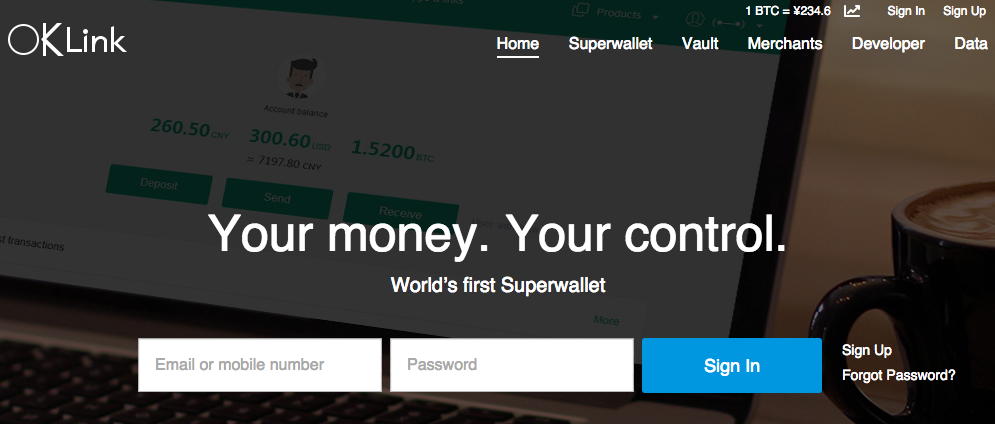 OKCoin, the largest Chinese yuan (CNY) bitcoin exchange by volume, has announced the launch of an ambitious new wallet product it hopes will encourage the wider industry to rethink its attempts to reach mainstream consumers.
Dubbed the first 'Superwallet', the OKLink desktop wallet, currently in beta, promises to combine the best of both fiat mobile wallets and traditional bitcoin wallets. In effect, the Superwallet will allow users to spend BTC, CNY or US dollars at bitcoin-accepting merchants, converting fiat currency to bitcoin only at the point of sale as a means of transmitting the payment and settling the transaction.
The conversion will come at no additional cost to the user, who will pay a bid/ask spread on the purchase as they would when initiating a purchase with BTC. OKCoin will continue to cover mining fees, while fees for those who use its traditional exchange to access bitcoin as a speculative asset will remain unchanged.
Jack Liu, head of OKCoin's international division, suggested that the launch of the Superwallet would mark one of the first attempts to encourage the use the bitcoin protocol as a payments rail without requiring users to interface with its currency directly.
Overall, he cautioned that the release is still a beta, and that the wallet is, for now, only as strong as the wider ecosystem with which it will need to interact. However, he expressed optimism that more bitcoin companies would be encouraged to adopt a similar approach when developing future efforts.
Liu told CoinDesk:
"The Superwallet is not branded as a bitcoin currency product. It will highlight the powerful open protocol which will allow users to spend their chosen currency using the bitcoin protocol in the same way the native tokens of the protocol can be spent."
Superwallet users who wish to transact in BTC will still be able to do so, a feature Liu believes will maintain the company's appeal to bitcoin users while providing benefits to a larger pool of customers.
"It removes the need to believe in deflationary money supply, decentralization, certain political leanings or the need to stay abreast of industry trends or currency movements," Liu added.
FinTech focus
The news comes on the heels of a slew of signals that the formerly trading-focused company was seeking to enter the consumer market. CEO Star Xu first hinted the company was on the verge of shifting focus at The North American Bitcoin Conference (TNABC) this January in his inaugural US appearance.
OKCoin went on to experience a string of departures that saw CTO Changpeng Zhao and product manager Zane Tackett leave abruptly for competitors or new endeavors. However, Liu said the Superwallet concept is unrelated to the exits, reiterating that his company is still equally focused on continuing to improve its exchange product.
Liu did, however, suggest the company is on a new path forward in his comments, framing OKCoin as a financial technology company that is more broadly interested in solving problems for mainstream consumers.
"We want to show we're innovative, that we're not just about speculation," Liu continued. "Bitcoin is an important, important, important part of our FinTech company, but we're trying to solve problems."
Liu's comments suggest a frustration with an industry that he implied was too focused on onboarding consumers to bitcoin as a currency.
"This type of thinking is a little narrow, how to help bitcoin users try to avoid volatility. There's this other community that wants to have an CNY or fiat wallet and think of a bitcoin address as a zip code or payment code," he said, adding:
"I don't think the average person wants to be looking at updates from Gavin Andresen and whether he put in new block sizes."
Limitations for users
At launch, Liu sees the Superwallet as more useful to its domestic Chinese users, who can connect bank accounts directly to the product, something US users are not able to do.
Still, he said there are workarounds for those who are willing to go through the current levels of friction to initiate USD purchases on the bitcoin network.
"You would buy bitcoin somewhere, including potentially OKCoin, and move the bitcoin to your USD wallet. So you don't have to have a bitcoin wallet, just a USD wallet," Liu explained.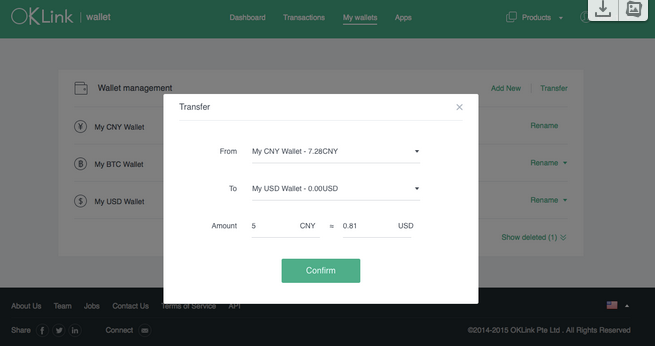 From there, Liu said users can scan bitcoin QR codes with their wallet to pay with fiat at the point of sale. Such new activity, he contends, would bring added liquidity to the network in a boon for bitcoin users.
"We're not changing the network. Anyone who wants to use bitcoin can keep using bitcoin," Liu added.
For now, though, he suggested the OKLink wallet is lacking refinement for English-language users. Translations for OKLink are still in development, Liu said, as are supporting versions of the product, such as iOS and Android editions.
Domestic market competition
While a change in the thinking of one large bitcoin exchange, it could be argued the Superwallet approaches concepts already being explored by other players in the wider digital currencies space that have attempted to move fiat currencies using open ledgers.
Pushing back against these comparisons, Liu argued that payment networks such as those developed by Ripple Labs are still centralized, meaning tokens function as IOUs.
In this light, Liu framed the Superwallet as an effort that seeks a similar usability while relying more on the bitcoin blockchain as a means to transmit fiat.
"If I send CNY via bitcoin to Circle, Circle owns this BTC and can get exactly the value of USD for that BTC. It does not owe any exposure to me or to any other party. Fiat should be transferred through a decentralized core and OKCoin has committed to that core being bitcoin," he said.
In this way, Liu suggested OKCoin could also compete in China, a market that has traditionally not be viewed as one where bitcoin can win a share of the payments space.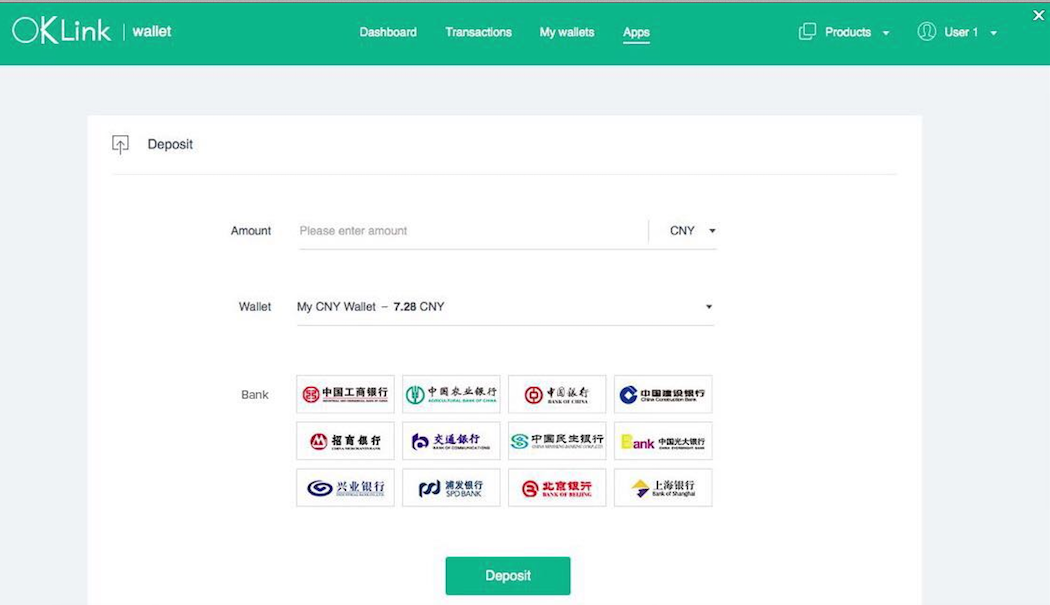 Liu attacked this idea as well, contending that despite the low fees charged by Alipay or UnionPay, OKCoin can appeal to Chinese users who need to transact internationally.
"WeChat is a closed payment system. When a WeChat user arrives in a foreign country for example, he or she will need to install a new wallet," Liu argued.
Building an ecosystem
Ultimately, Liu envisions an ecosystem where bitcoin serves as the rails for international payments and companies like OKCoin act as the on and off ramp for users to convert in and out of different fiat currencies.
He stressed that the ecosystem needs to come together to enable this economic activity. For example, Liu noted that, today, OKLink users would not be able to send USD to a Circle wallet and have that user receive USD on the other end.
However, Liu did outline examples of how OKCoin's Superwallet could be useful for users of the bitcoin payroll service Bitwage.
"Now a Chinese person can get Bitwage and the bitcoin goes to a CNY wallet, and they get paid automatically in CNY," Liu explained.
Liu also indicated that he doesn't see the Superwallet as a viable consumer spending tool at present, given the limited number of merchants on the protocol. For this effort, Liu acknowledged the support of companies like Coinbase and BitPay is needed.
With this goal in mind, Liu ended by calling on the industry to join together for what he characterized as the greater consumer good, concluding:
"Everyone in this industry should be embracing this concept."
Blueprint image via Shutterstock
Full article available here.
---