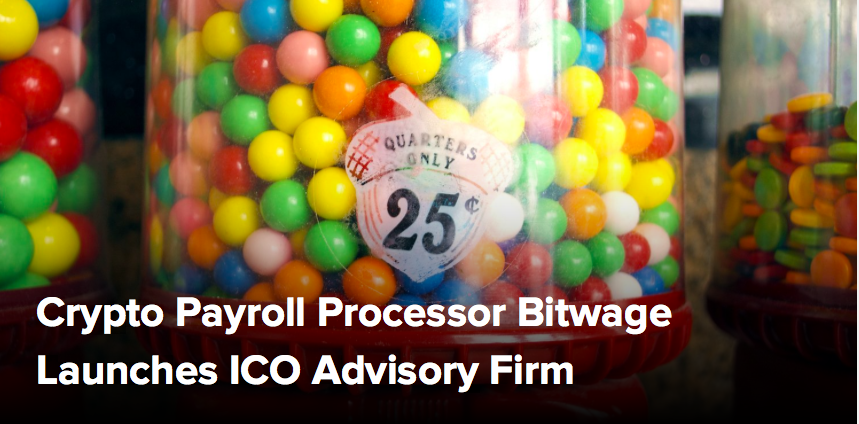 (CoinDesk) Crypto Payroll Processor Bitwage Launches ICO Advisory Firm
Table of Contents
Nikhilesh De May 29, 2018 at 13:00 UTC | Updated May 29, 2018 at 13:05 UTC
Cryptocurrency payroll service Bitwage wants to make it easier for companies to launch initial coin offerings (ICOs).
The company announced on Tuesday that it has created a new advisory firm called Inwage, which seeks to help traditional companies develop and hold token sales. The company's platform includes modules for know-your-customer procedures, payment processing and dividends, as well as a customizable front page and an administrative portal, according to the startup.
In addition, Inwage will provide assistance with creating and auditing smart contracts, as well as website security. Clients can also get assistance with marketing and public relations through the new service.
BitWage president Jonathan Chester said the creation of Inwage was prompted by individuals and companies who began asking for advice around the technical and marketing aspects of ICOs.
He explained:
"We started to build out an ICO technology that people can use without relying on a third party. People can license the InWage software and host it themselves. This is actually one of beautiful things about ICOs, the ability to sell a digital asset without the requirement of a third party."
The company has already helped the GS Mining Company and Ethmint launch the token for a platform called Moria, Chester told CoinDesk, calling it "the world's first decentralized investment platform for precious metal extraction." The Moria token sale aimed for $30 million, but ultimately raised $50 million during its run, he added.
Going forward, the firm hopes to work with other services that provide "regulatory compliance and investor channels to make ICOs accessible to companies of all shapes and sizes," Chester said.
Gumball machine image via Shutterstock
Full article available here.
---