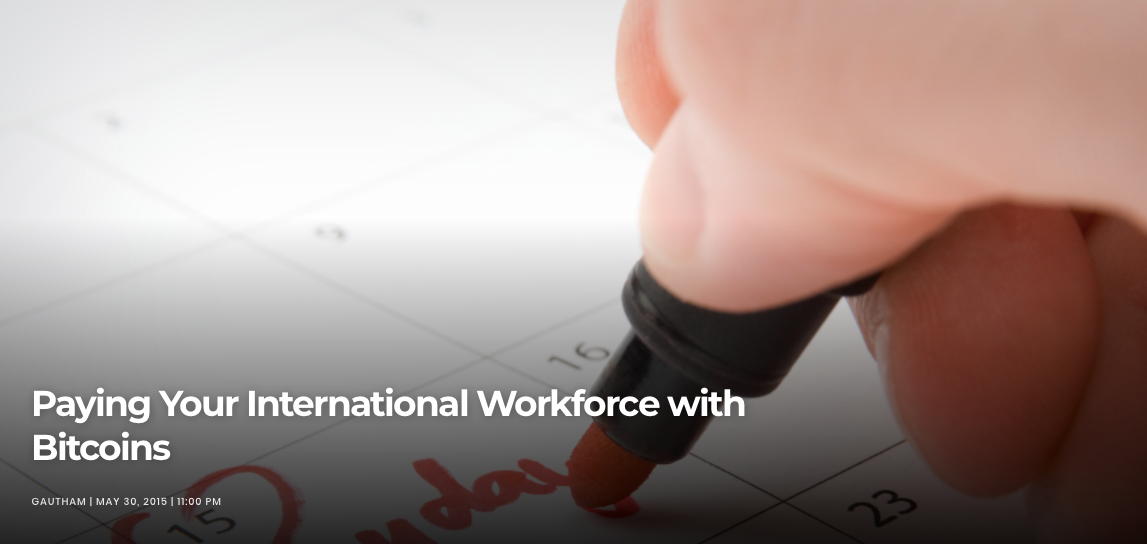 (NewsBTC) Paying Your International Workforce with Bitcoins
Table of Contents
GAUTHAM | MAY 30, 2015 | 11:00 PM
The following is something we at NewsBTC can relate to. We have great writers and Bitcoin enthusiasts from across the world contributing to our magazine. When it comes to their remunerations, conventional money transfer across borders is a pain. But, we found a solution!
Thanks to the evolution of internet and technology, it is now possible for companies to have a global workforce. As the companies employ people from across the world, they have to make necessary arrangements to pay regular salaries to their employees. With the current banking infrastructure, it takes a long time to transmit money across borders, not to forget forex and other charges which will be ultimately borne by the employee. The employee will end up receiving less than what the company owes him. Even for the businesses, it is hard to wait without knowing whether the money reached the recipient or not. This brings us to the question – what is the best way to send money to overseas employees?
Now we have an ideal solution for the above problem, and the solution is called Bitcoin. Including Bitcoin into a company's payroll for paying its overseas workforce is a great option. Bitcoin payments greatly reduces the time and cost involved in overseas money transfer.
Bitcoin transactions are known for their transparency and efficiency and this is something that we at NewsBTC have taken advantage of. Standing true to the words in this article, we included Bitcoin into payroll about an year ago and things have been smooth ever since.
It was an easy task for us, as we all know about bitcoin. But, what about other companies and businesses where most people don't know about bitcoins? There are start-ups which intend to cater to such businesses and Bitwage is the first one among them.
Bitwage is a Sunnyvale, California based company that offers bitcoin based payroll services to reduce the time and cost associated with international money transfer. By effective utilization of Blockchain technology, Bitwage allows its users to know the exact status of their transactions anytime throughout the process. The money from employer is converted and transferred as bitcoins, which can/will be converted back into fiat currency and disbursed to the employees in any location.
The Bitwage platform has already been adopted by few companies including Colectivo and Rockerbox. The company envisions itself serving everyone from unbanked workers to highly paid executives around the world.
Full article available here.
---