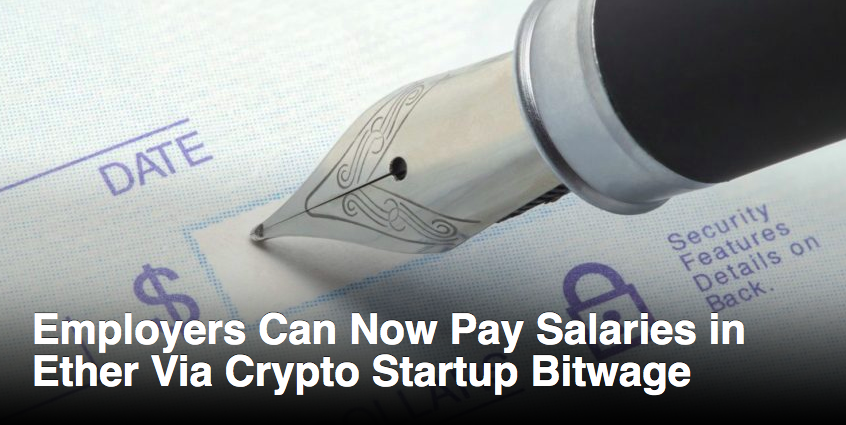 (Coindesk) Employers Can Now Pay Salaries in Ether Via Crypto Startup Bitwage
Table of Contents
Daniel Kuhn Jun 10, 2019
Bitwage, a startup that helps companies pay their employees in cryptocurrency, has added ether as a payroll option.
Announced Monday, companies that want to offer tax and HR-compliant ether benefits can sign up to offer it as a benefit to employees.
The company has been providing direct deposits of bitcoin since 2014, and serves over 30,000 workers. Employees, freelancers and independent contractors can receive from their clients or employers any percentage of their fiat obligations due to them in crypto.
The company has experimented with the ethereum ecosystem since 2017, including launching the consulting services firm Inwage, which built several projects on the second-largest blockchain. This includes the Moria initial coin offering, which raised $50 million, and a pilot project for a major insurance company that leverages ethereum for audit trail capabilities.
But adding ether to Bitwage's main offering "took a lot of behind the scenes work… because the whole system was optimized for BTC," a company representative told CoinDesk. "It's just a matter of now having gotten the infrastructure to add it."
When Bitwage was founded five years ago, CEO Johnathan Chester realized that merchants were already accepting bitcoin, but there was no way for employees to get paid in it as well.
"Our goal was to close the financial loop," Chester said in a statement. The company currently processes $2.5 million in monthly volume for contractors and full-time employees.
Bitwage provides two payment services, direct deposit – in which employees have part of their salaries sent to the company to be exchanged for crypto automatically through dollar cost averaging – as well as team wages, where Bitwage provides companywide payroll services. Team wage contracts are primarily provided for companies that may want to pay hundreds of contract employees spread across the globe with just one payment, the representative said.
Though the company makes a spread on the exchange, there is no fee for the basic service. There is also a premium version, which provides payments sooner and costs $15.99 per month.
Square offers a similar service where an employee's direct deposit goes to the payments platform, but the employee has to manually swap it for bitcoin. Coinbase allows automatic monthly purchases of crypto out of a customer's bank account.
Several blue-chip companies have employees that use Bitwage to automatically convert their cash salaries into crypto including Amazon, Google, and Apple. Additionally, many gig workers for Uber, Caviar, and Doordash utilize the services, according to the representative.
Bitwage clients can have up to two payments distributions per pay period in either fiat or crypto as a non-premium user, or three for premium.
The company has received around $1 million in total funding from such investors as Draper Associates, Candela Reach Capital, and BPI France.
Full article and image taken from Coindesk.
---