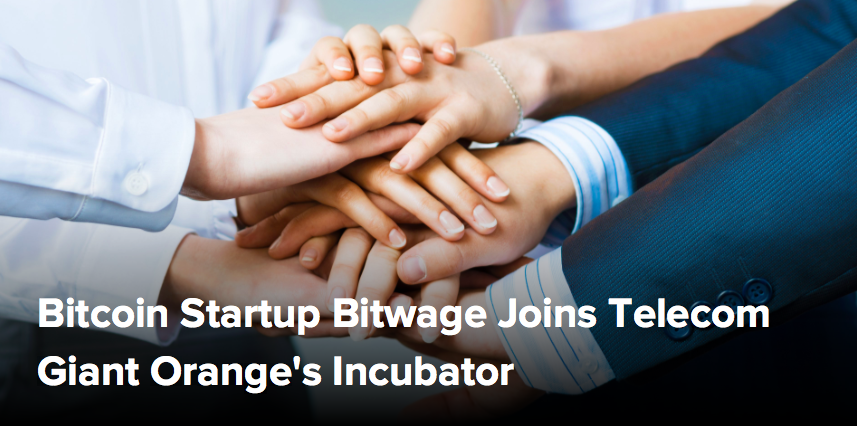 (CoinDesk) Bitcoin Startup Bitwage Joins Telecom Giant Orange's Incubator
Table of Contents
Stan Higgins, Nov 9, 2015 at 22:45 UTC
Bitcoin payroll service Bitwage is joining six other startups as part of an incubator backed by French telecom giant Orange SA.
The startups represent the fifth class of startups included in the Orange Fab incubator, which began operations in 2013. Companies that take part in Orange's incubator, according to the firm's 5th November announcement, will work with mentors, receive hands-on training and conduct business out of a San Francisco workspace owned by Orange Silicon Valley (OSV), the telecom's US-based outfit.
Bloomberg reported earlier this year that Orange was looking to invest in bitcoin startups. It later joined Chain's $30m Series A funding round.
Bitwage founder and president Jonathan Chester told CoinDesk that his team has been working out of the San Francisco space since September. He traced Bitwage's involvement with Orange back to a local gathering in June, when he appeared on a panel hosted by OSV.
This connection led to further discussions with OSV, which is conducting an internal blockchain initiative dubbed ChainForce.
Chester explained:
"We actually did not go the normal route. The normal route is to apply, get judged internally by various analysts, come in for a pitch to a bunch of judges, get judged by Orange partners, then the decision is made. We skipped the first three steps since we already had a strong relationship with the blockchain innovation teams."
Orange did not immediately respond to comment. However, in a statement accompanying the announcement, Pierre Louette, deputy CEO and secretary-general for digital investments at Orange, said that its incubator program positions the company to take advantage of new technology trends.
"By collaborating with startups, our goal is to anticipate future trends in the digital industry, whether it be the development of innovative technologies or new business models," he said.
Image via Shutterstock.
Full article available here.
---