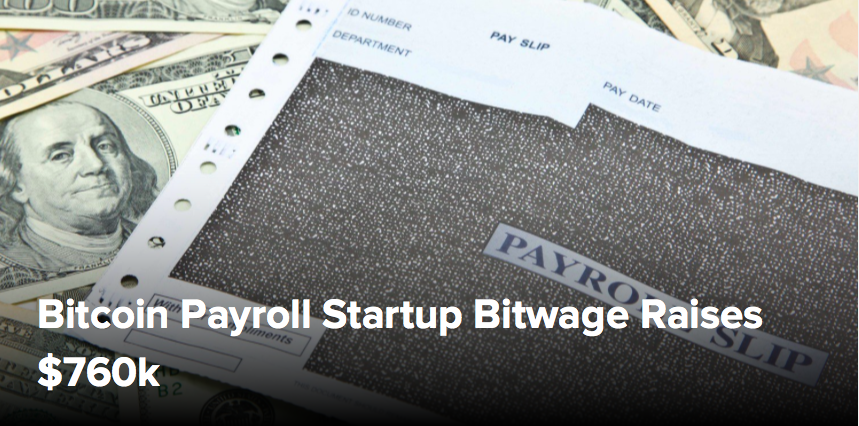 (CoinDesk) Bitcoin Payroll Startup Bitwage Raises $760k
Table of Contents
Stan Higgins, Nov 19, 2015 at 17:24 UTC | Updated Nov 19, 2015 at 17:28 UTC
Bitcoin payroll startup Bitwage has wrapped up a period of fundraising, bringing in a total of $760,000 raised between a group of investors including Orange Telecom, Draper Associates and participants on the BnkToTheFuture. com investment platform.
On Monday, Bitwage closed a $200,000 funding round on BnkToTheFuture.com, shares from which were initially purchased by Max Keiser's Bitcoin Capital fund.
The bitcoin payroll startup has spent the past few months raising funds, a process that included participation from Cloud Money Ventures, the venture arm of Uphold, and Saeed Amidi, an investor in Bitwage who was also an early supporter of now-billion dollar companies like PayPal and Dropbox. During that time Bitwage joined the Silicon Valley-based startup accelerator run by Orange, the major French telecommunications group.
In an interview with CoinDesk, Bitwage founder Jonathan Chester said that the company plans to use the funds to build out its infrastructure, with a particular focus on expanding to the European market. Further, he said the Bitwage team plans to expend resources on enhancing its user experience to make it simpler for client integrations to take place.
"What we're doing with these funds is streamlining that process," he said.
Those who took part in Bitwage's recent funding efforts pointed to its real-world use and potential to kickstart bitcoin usage as reasons for getting involved.
"I think in this case we are betting on the jockeys and not the horse," Keiser told CoinDesk.
BnkToTheFuture. com CEO Simon Dixon said that the Bitwage funding effort drew significant interest from contributors on the platform.
"Bitwage is bringing the power of Bitcoin to international payroll and it was one of the most popular pitches on BnkToTheFuture. com," he said.
Julian Lee, a partner for Cloud Money Ventures, commented that the firm got involved following its previous work with Bitwage, adding:
"Working with Uphold, BitWage is able to solve a number of pressing problems faced by multinationals centered around international payroll and money flow, benefitting from increased speed, greater transparency and significantly lower costs."
Orange Telecom, Draper Associates and Saeed Amidi did not immediately respond to requests for comment.
Payroll image via Shutterstock
Full article available here.
---