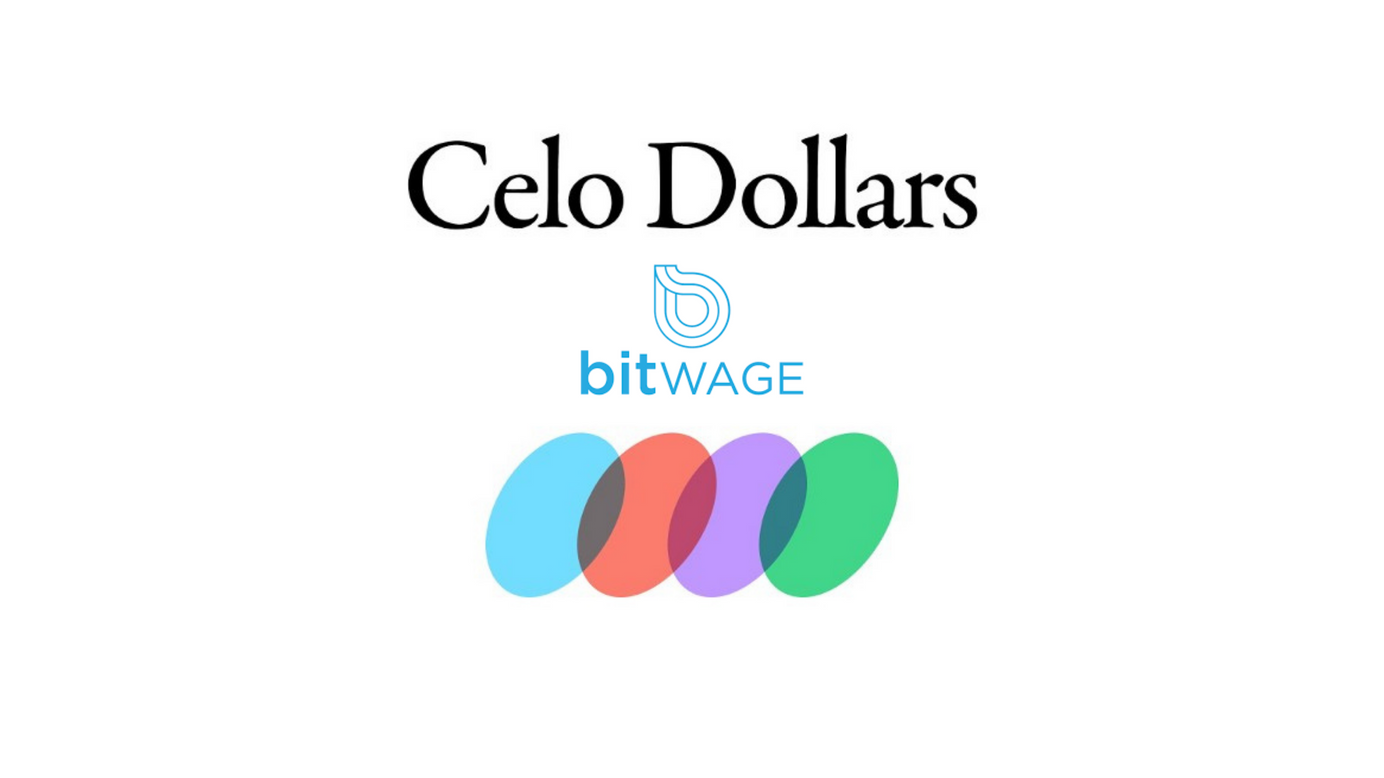 Bitwage Adds New Stablecoin (cUSD) in Partnership with Celo
Table of Contents
In partnering with the Celo Foundation, Bitwage is proud to formally announce the integration of a new stablecoin on our platform: Celo Dollar (cUSD).
The goal of Bitwage is to empower global workforces by bridging traditional finance with the new digital era. Across the US, EU, and UK, our customers use us as a way to dollar-cost average their Bitcoin purchases and other cryptocurrencies. We're proud to have helped 50,000 users with +$100MM in transactions across the globe in +100 countries.
These workers are leveraging the power of Bitcoin and stablecoins to receive their wages faster and more cost effectively across two different services: our individual product and our company product.
The individual product allows for any employee, freelancer, or vendor to receive a percentage their wage in Bitcoin, stablecoins, or their local currency globally. The company product is similar, except that it allows for any company to pay their workers, freelancers, and vendors with these same digital assets on a global scale.
We have recently launched the stablecoin USDC to much success. In less than a year, it represented our 3rd most-used currency (accounting for local currencies and crypto combined).
However, USDC has a problem: being based off of the Ethereum blockchain, it is very expensive to send and receive. While we currently only charge $15, it can cost as much as $20 to send on-chain.
Before we talk about our integration of Celo's cUSD, let's discuss the technicals behind stablecoins.
About Stablecoins
There are two kinds of stablecoins that exist: those with a centralized peg to USD and those with a decentralized peg. A centralized peg means that it is backed dollar-for-dollar in a bank account. USDC is backed by Circle, a financially regulated entity in the US.
There are also decentralized pegs, which leverage smart contracts to enforce dollar pegs with censorship resistance. With a decentralized peg, no one has full control of the money stabilizing the currency. The decentralized peg with CUSD means there's less control from a bank, a company, or a regulatory body and more control by the individual storing their funds in their wallet.
Consequently, the price isn't as stable as a stable coin with a centralized peg, and the code – backing the smart contract to enforce stability – must be air tight.
In order to offer more flexible and democratic solutions to workers globally, we have sought to integrate a solution that both solves the problem of high ethereum gas fees and offers a decentralized pegging option.
This is why we are happy to partner with the Celo Foundation and announce the launch of CUSD on our platform. Let's break down what this partnership means, why we're doing it, and more.
The Celo Foundation?
They're a non-profit organizaton dedicated to the growth and development of the Celo protocol, an open-sourced Proof-of-Stake (PoS) blockchain based on an Ethereum fork. Their goal is to create a healthier, more sustainable monetary ecology that supports global, regional, and local stable-value currencies.
Their work is inspired by Sacred Economics: a book and philosophy created by sociologist Charles Eisenstein, which calls for a global reinvention of the global financial system and creating better opportunities for humankind.
According to the whitepaper, their first application is "a social payments system centered around mobile phones."
CUSD?
This is Celo's stablecoin.
As a stablecoin with a decentralized peg, it has a reserve backing it's overall value. In fact, the stablecoin reserve is overcollateralized and can be seen at any time here.
As of today, the reserve has 12 times the amount of USD normalized value as there is cUSD minted. When demand for cUSD increases, the token smart contract generates more tokens and releases them into the open market to maintain a 1-to-1 peg with USD. When the price of cUSD falls under a dollar, the Celo Protocol sells CELO from the reserve to buy cUSD on the open market, reducing supply.
When the reserve goes below acceptable protocol ratios, fees are levied on the Celo network and newly minted Celo from staked funds are used to support the reserve.
Aside from the decentralized peg, Celo has built a process to allow users to attached cryptographic addresses to phone numbers, which are then directly readable on the Celo protocol. This makes cUSD easily available to 6 billion mobile users across the planet. Not seeing the potential here? We'll let them tell you:
Use cases include the $87 billion digital remittance market, $248 billion gig economy, $1.4 trillion mobile point-of-sale market, and $34.billion peer-to-peer lending market.
Why?
Simply put, cUSD is fast, easy, and touchless. Some people even call it "Venmo for Crypto." However, more than that, it puts financial power in the hands of those who lack it.
One of the more striking examples is the African company Kotani Pay. Powered by the Celo blockchain and a cUSD payment structure, mobile users in Africa can establish assets or even build their credit history in order to receive loans.
Another big "why" behind this partnership is a shared belief that global population should have the ability to access and send money from anywhere for a minimal cost. With access to a mobile phone, this is exactly what Celo provides. cUSD can be sent instantly to virutally anyone in the world for as little as $0.01.
Now that's what we call financial liberation.
How?
Here's an easy, step-by-step guide on how to choose CUSD as a payroll distribution option!
1 - Log-in on bitwage.com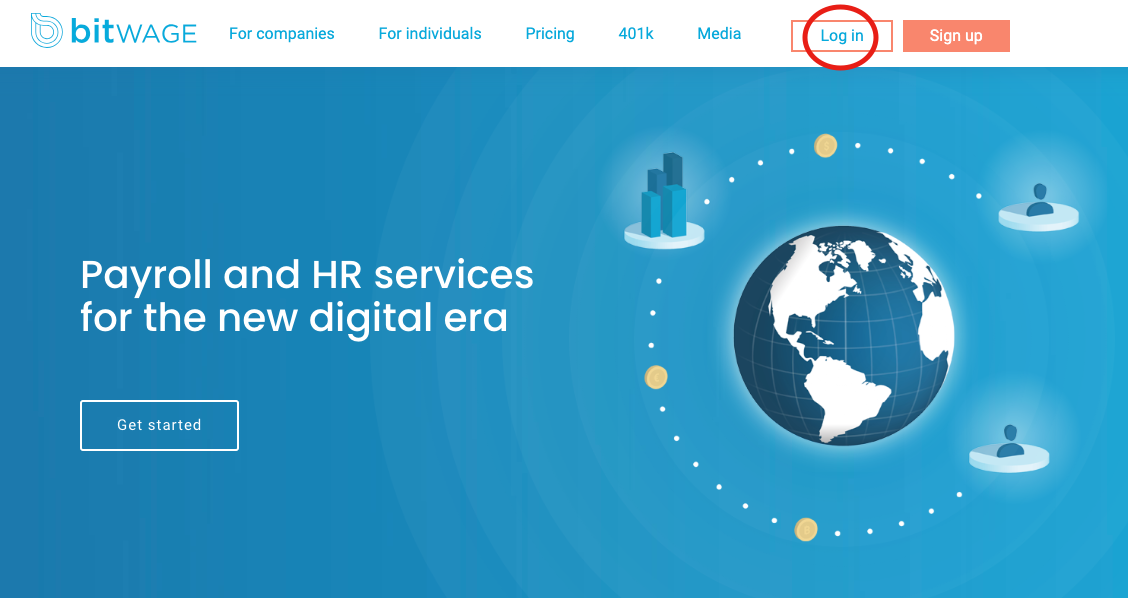 2 - Choose "Distributions" in the upper-right hand corner

3 - Click the big green button that reads "Add Distribution"

4 - Below this, to the left, click "Digital Currency"

5 - From the drop-down menu, choose Celo Dollars (cUSD)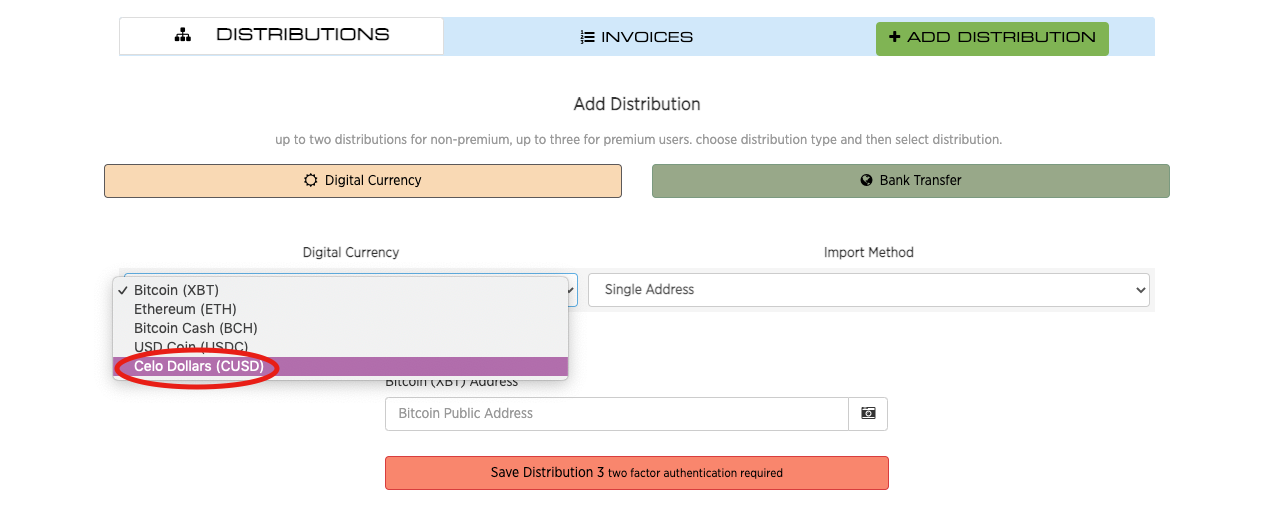 6 - Lastly, enter the public key for your receiving CUSD account and, voila, you're all set!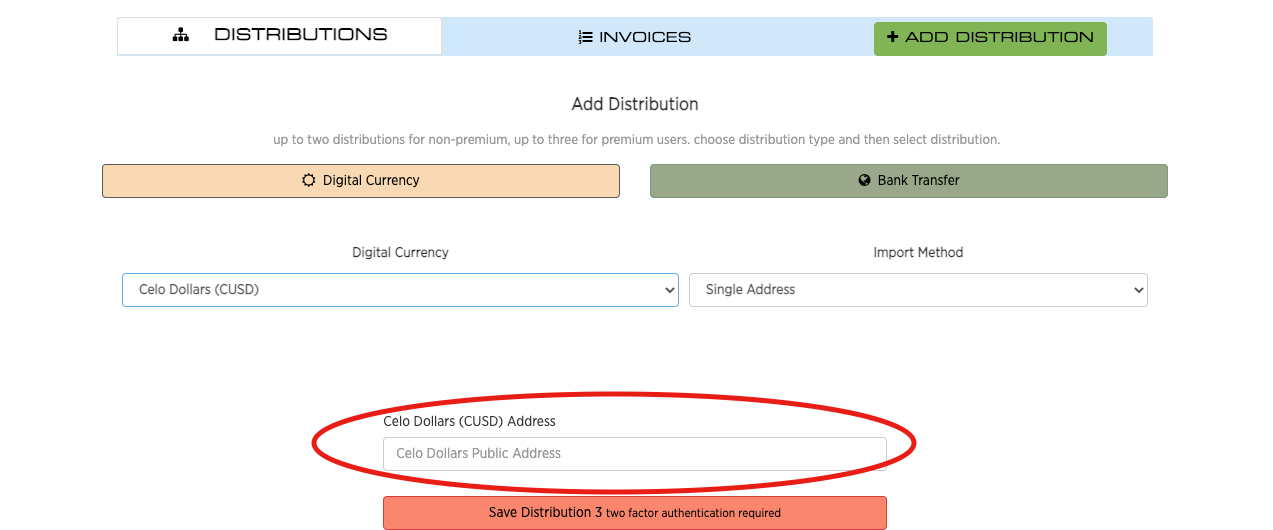 7 - BONUS: Remember, you can choose the distribution percentage. Want 90% USD? 10% CUSD? 100%? No problem. It's your choice!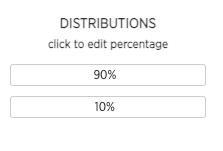 Final Note
We're thrilled to introduce this service because now anyone with a mobile phone can get paid from their employers in a stablecoin that is much cheaper than the standard.
Because cUSD is so new, it is not on many exchanges, so please make sure it's available to sell in your country.
Begin earning cUSD today by signing up for free at bitwage.com. If you'd like to learn more about the Celo Foundation and cUSD, visit their website at celo.org
---